Kleemann EVO2 generation to provide higher operational reliability
By Catrin Jones06 June 2022
Kleemann's new EVO2 generation of crushing machines, the Mobicat MC 110(i) EVO2 and Mobicone MCO 90(i) EVO2, are said to provide enhanced operational reliability by preventing machine damage and production downtimes.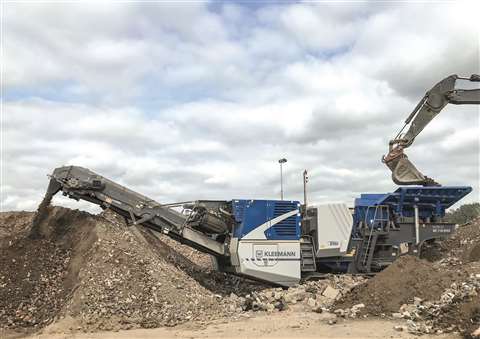 The overload systems on the MC 110 EVO2 and MCO 90 EVO2 are said to increase the operational readiness of the plant in a sustainable manner by guaranteeing a crushing process that is as continuous as possible. Both crushing machines are equipped with mechanically and software-supported overload systems.
With its multi-stage overload system, the jaw crusher Mobicat MC 110(i) EVO2 provides more safety with uncrushable material says Kleemann. If, for example, metal enters the crushing process, the crushing gap (CSS) opens automatically in up to two seconds over the complete gap range.
Kleemann says that the crusher itself does not have to be stopped during the temporary overload situation, which means that the crushing chamber is empty and manual clearing of the crusher is not necessary which saves work and time.
When the overload situation is corrected, the system then moves back to the original crushing gap and the crushing process is continued. The pressure plate installed as a predetermined breaking point is preserved. The consequences are reduced downtimes and increased crushing capacity.
The cone crusher Mobicone MCO 90(i) EVO2 has two different systems installed. The overload system "Tramp Release" protects the crusher against uncrushable material such as wood or metal.
The bowl including the bowl liner lifts automatically to allow uncrushable material to fall through. The "Ringbounce Detection", on the other hand, reacts to an excessively high share of fines in the feed material and prevents "briquetting" – which means the clogging of the crusher or sticking together of the material. Here, the hydraulic pressure of the crusher is monitored continuously. The system reacts as required and therefore prevents latent overloads.