Klubb acquires EGI
By Euan Youdale01 August 2018
France-based Klubb has acquired firefighting and insulated platform manufacturer EGI, located near Charleville-Mézières in the east of the country.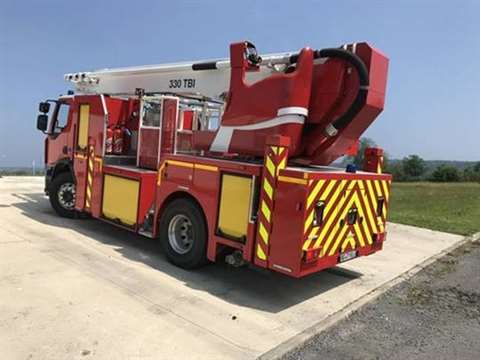 EGI employs 35 people and produces 18m - 65m working height platforms for firefighting and high voltage power line applications.
EGI exports most of its products to areas that are difficult to access, for example in Qatar, China and Chile to clean insulators on high voltage lines.
Julien Bourrellis, president of Klubb, says EGI has unique expertise recognised around the world. "This acquisition will enable us to rapidly develop high voltage insulated platforms, which are in great demand in many international markets," said Bourrellis. "We will be able to position ourselves in countries where we are not yet present and gain export market share."
The 12,000 square metre factory is located on 7 hectares in the Ardennes and will allow the group to increase its annual production capacity. "We are also pleased to announce that on this site we will continue to manufacture firefighting platforms on vehicles. EGI has established itself as a major player in this market and we are proud to ensure the continuity of this activity," added Bourrellis.
Nacelle Assistance and Services, a wholly-owned subsidiary of the Klubb group, will maintain and repair all EGI's products. Its technicians are being trained on the specifics of EGI's models to carry out any necessary repair or maintenance work.