Kobelco crawler deployed on Dublin 2 development
By Leila Steed21 December 2020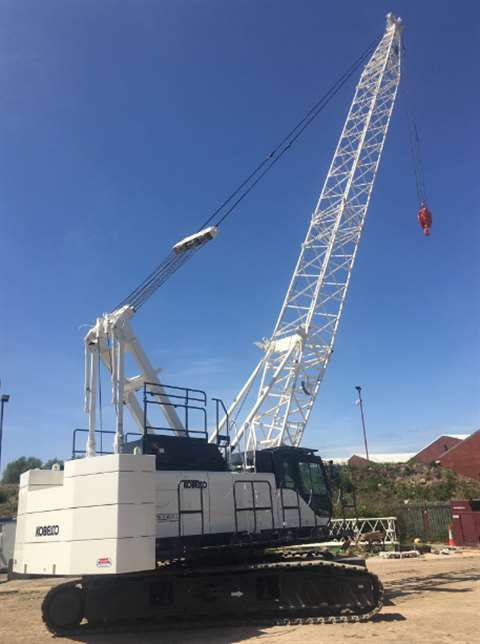 A new Stage V/Tier 5 compliant Kobelco crawler crane has been deployed at the €350 million (US$425 million) Wilton Park development in Dublin, Ireland.
Owned by United Kingdom-based rental company FKL Plant, the CKE900G-3 crawler model is being used by main contractor John Sisk & Son on a 42,000m2 two-storey basement at the development, which forms part of the Dublin 2 project.
Working alongside two Soilmec hydraulic drilling rigs, the Kobelco crawler is helping to construct the secant bored pile basement wall. The CKE800G-3 is primarily engaged in lifting 18-metre-long reinforcement cages for the basement's 15 to 18-metre-long rotary bored piles. With a maximum lifting capacity of 100 tonnes at 3.6 metres and a standard 51.8-metre-long main boom, FKL Plant said the machine is lifting the 2-tonne reinforcement cages – and a variety of smaller loads – at a maximum radius of 38 metres.
Mark McKeown, business development manager at FKL Plant, said, "The site is a relatively compact one, and the 42.7m mast on the compact, but highly manoeuvrable CKE900G-3 meant it could easily be placed and have everything within easy reach."
He added, "While we've only just started work, we're delighted with the crane's performance to date and look forward to continuing to use it in the years to come."
The Kobelco CKE900G-3 crawler was delivered to FKL Plant's Manchester depot in the UK in August, before being transported to Ireland for use at the Dublin 2 Wilton Park development.
When complete, the Dublin 2 project will see the formation of a new city quarter with space for office, retail and restaurant use.