Kobelco on future of crane division
By Katherine Weir11 April 2016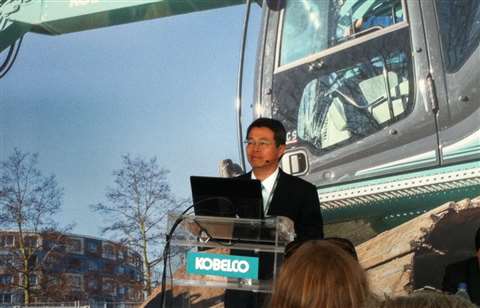 As part of the Kobelco press conference at Bauma Munich, Kazuhisa Kakinaga, managing director of Kobelco Cranes Europe, spoke about the action plan for this division.
Since Kobelco Cranes Europe was established in 2004, it has sold 495 units of crawler cranes and aimed to reach the 500 target by the end of the Bauma exhibition. Kakinaga explained that 2015 was a record year for the company with 235 crawler cranes sold - 170 below 300 tonnes in capacity and 65 cranes with more than 300 tonnes capacity.
Kakinaga said, "Our target for Kobelco Cranes Europe for the next generation is to focus on strong marketing action in Germany and Turkey, maintaining the current Kobelco market share in Europe and creating a business strategy to increase the sales of large-sized cranes."
Kakinaga also spoke of six new models of the Mark 2 Kobelco CKE-G and BME-G Series. Improvements in the Kobelco CKE1350G-2 model include an increase in the lifting capacity from 135 tonnes at 4.5 metres radius to 150 tonnes at 4.4 m.
"There will also be new, clean diesel engines on all six models to comply with EU Stage IV and US EPA Tier 4 final regulations by using SCR (Selective Catalytic Reduction) and DPF (Diesel Particulate Filter) system," said Kakinaga. "Other new main features are an improvement in the energy-saving function G-Mode and improvement of transportability and assembly - with refinements made to the auxilliary platform and handling of boom inserts. The dimensions and weights of the main machines and all attachments are less than 2.9 m in width and 45 tonnes."