Kohler expands generator line-up
By Helen Wright15 October 2015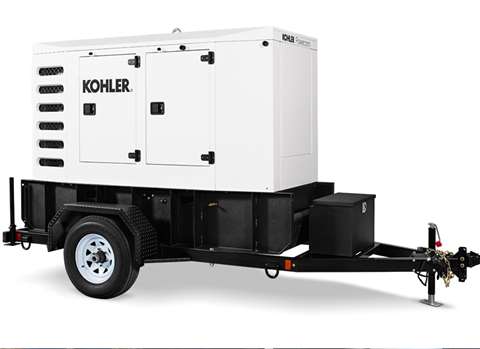 Manufacturer Kohler has added a new 46-48 kW standby rating diesel generator model to its mobile range.
It said the 55REOZT4 was built to withstand the elements and run long hours in prime and standby applications, and met all emissions standards.
"The 55REOZT4 is a great addition to our diesel mobile generator line and is ideal for a wide variety of settings where power is needed – from remote construction sites to large-scale events," said Anne Feudner, product manager for Kohler Power Systems.
"This new model is being offered in response to the strong feedback we've received to our existing diesel-powered mobile units. This is the fifth model introduced within our Tier 4 Final lineup and is capable of a 46-48 kW standby rating and 42-43 kW prime and continuous rating."
The manufacturer added that the 55REOZT4 was EPA emission certified for non-road use, and came equipped with a rugged DOT-certified trailer and durable enclosure.
Like all Kohler gaseous and diesel mobile generators, it said the new model was also compatible with the company's recently launched Mobile Paralleling Box, which allows users to parallel different sized generators with different fuel types to optimise power.
Kohler said other key features of the 55REOZT4 included a heavy-duty air cleaner with restriction indicator, fuel tanks sized for 24-hour runtime, and a cold weather package among others. In addition, the model is said to operate at 69 dB(A) at 7m at full load, thanks to its steel housing.
In addition, the Kohler Decision-Maker 3500 digital controller, featured on the 55REOZT4 generator, provides advanced network communications for remote monitoring.