Komatsu reaches heights at Stage V
The new PC490HRD‐11 is the latest in Komatsu's range of heavy‐duty demolition excavators and the company says it brings "best in class" working height to the 60 t machine sector and can be configured in six different working arrangements.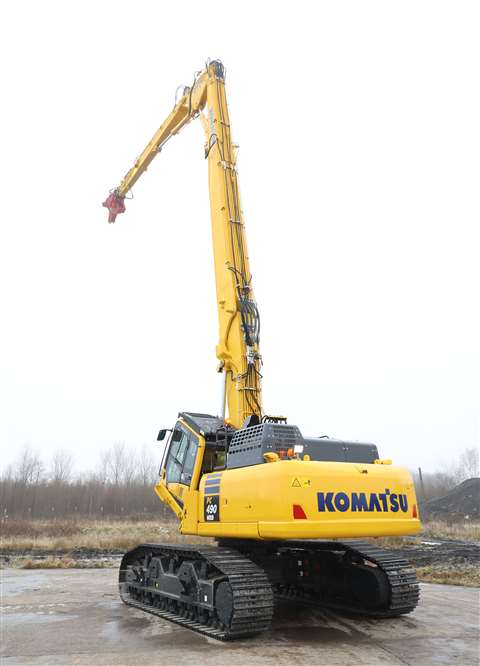 The machine – which was designed and manufactured at Komatsu UK in the north east of England – carries a 2 t demolition tool up to a height of 32 m (105 ft), a 3.34 t tool up to 28 m (92 ft) and it can work with a 5 t demolition tool up to 17.4 m (57 ft). This new machine is described as allowing operators to work through the widest possible range with optimal control and safety.
Operating weight of the PC490HRD‐11 ranges from 55,200 to 73,400 kg (121,695 lb). Its Komatsu EU Stage V compliant engine puts out 270 kW (362 hp) at 1,900 rpm, with minimal environmental impact.
The excavator can be easily reconfigured for changing work demands, with the in‐house boom change system including oversized quick connectors for the hydraulic lines, to minimise back pressure and oil heating, without restricting oil flow. The system also features hydraulically powered pins, which are mounted inside the main boom structure, reducing risk of damage.
Komatsu has committed significant effort to transport arrangements on the PC490HRD‐11. Every section of the working equipment is provided with tie down points and lifting eyes to allow the equipment to be lifted and secured onto a trailer safely. The machine itself has been kept as compact and light as possible, without compromising durability.
"Komatsu is proud that the demolition products sold in Europe are entirely developed and manufactured in our European excavator factory," said Simon Saunders, product marketing manager for Komatsu Europe demolition machines.
"This means that our innovations are driven by the needs of the local European industry. Everyone is committed to offering exceptional versatility and safety, with a host of operator convenience features."