Komatsu's European 50
By Sandy Guthrie17 October 2017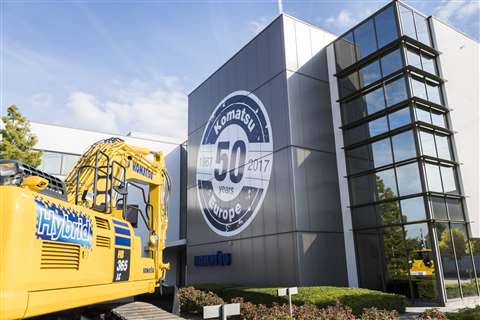 Komatsu Europe International has celebrated 50 years of operating in Europe with a formal ceremony at its European headquarters at Vilvoorde in Belgium, followed by a dinner at the Castle Ter Block, in Overijse, near Brussels.
Originally called NV Komatsu Europe SA when it was founded in Belgium in 1967, Komatsu Europe was one of the first premises established outside Japan by Komatsu, manufacturer of construction and industrial equipment based in Tokyo.
Originally in Antwerp, then at Haren in the Brussels area, Komatsu Europe moved to Vilvoorde, near Brussels airport, in 1973, and into a new European co-ordination centre with a separate spare parts warehouse.
In December 1989, it was officially renamed Komatsu Europe International NV, with the goal of co-ordinating and expanding Komatsu's operations across the continent.
In 2005, Komatsu Financial Europe was launched, with the aim of providing customers with tailormade financing solutions and lower costs of ownership.
New buildings were added in 2006, including the current offices and meeting rooms.
Today, Komatsu Europe employs over 300 people. Technicians, sales profiles, marketing and legal experts work with the administrative staff and with a network of over 40 distributors and five Komatsu plants.
Mas Morishita, CEO and managing director of the European operation, said, "Komatsu high technology equipment is world renowned for its productivity, reliability, economical operation, ease of use and safety."
Komatsu Europe is also the centre for Komatsu Europe Parts Operations. A 60,000m2 warehouse holds over 200,000 different references for Komatsu spare parts, which can be shipped quickly to Komatsu Distributors in Europe, the Middle East and Africa.
Dirk Stukkens, general manager, said, "We are always there for our customers. We work as a team and grow with our distributors."
Among the more than 300 guests at the celebrations with Morishita and Stukkens were Tetsuji Ohashi, president and CEO of Komatsu; Peter Howe, chairman of the board of Komatsu's European operation; Lodewijk De Witte, Governor of Flemish Brabant; Hans Bonte, Mayor of Vilvoorde; and His Excellency Hajime Hayashi, Japan's Ambassador to Belgium.