Komatsu's third generation hybrid
By Sandy Guthrie16 April 2014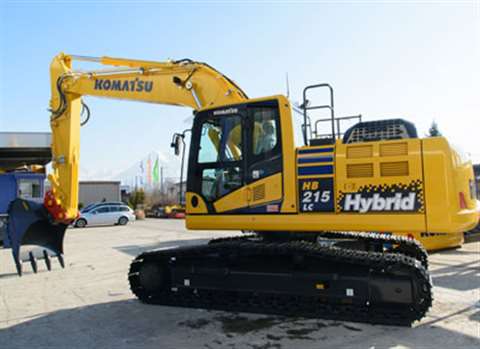 Komatsu Europe International's new HB215LC-2 hybrid hydraulic excavator, just released on the European market, is a third generation hybrid model, with an increased operating weight of 22.55 tonnes and a bucket capacity of 1.68m³.
Komatsu said that since 2008, when it claimed to be the first in the industry to introduce this hybrid construction equipment, over 2,500 Komatsu excavators have been bought worldwide.
Jim Venerus, deputy general manager for European product marketing at Komatsu Europe, said, "The Komtrax monitoring system, standard on Komatsu models, shows that our customers are saving, on average, 25% fuel with their Komatsu hybrid machine, along with a significant reduction of CO2 emissions."
The new excavator claims enhanced hybrid components and a new Komatsu EU Stage 3B engine.
Yoshihiro Kobayashi, product manager for hybrid excavators at Komatsu Europe, said, "The new HB215LC-2 will now provide Komatsu customers with an even higher fuel economy. Actual savings will depend on the application, and fuel efficiency is particularly high when operating the excavator with hydraulic attachments.
"We estimate that the extra investment into a Komatsu hybrid machine can typically be recovered in two years or less."
The HB215LC-2 is supported by Komatsu CARE, a complimentary maintenance programme for Komatsu customers that comes as standard with every new Komatsu EU Stage 3B construction machine. For the first three years or 2,000 hours, it covers factory-scheduled maintenance, performed by Komatsu-trained technicians with Komatsu parts.
The latest Komtrax technology on the HB215LC-2 sends machine operating information to a secure website via wireless technology. Data such as operating hours, fuel consumption, location, cautions and maintenance alerts are relayed to the web application for analysis.
Komatsu's hybrid system works on the principle of swing energy regeneration and energy storage. It includes Komatsu's electric swing motor, power generator motor, ultra-capacitor and a 104kW SAA4D107E-2-A diesel engine. Komatsu's Ultra-Capacitor is said to provide fast energy storage and instantaneous power transmission.
The kinetic energy generated during the swing-braking phase is converted to electricity, which is sent through an inverter and captured by the Komatsu Ultra Capacitor. When accelerating under workload conditions the captured energy is discharged quickly for upper structure rotation and to assist the engine as commanded by the hybrid controller.