Komatsu wheels out new excavator
By Steve Ducker13 June 2018
Komatsu Europe has announced the new PW160-11 wheeled excavator.
Described as ideal on jobsites with limited space or in urban areas, it has an EU Stage IV engine and provides an average of 4% less fuel consumption.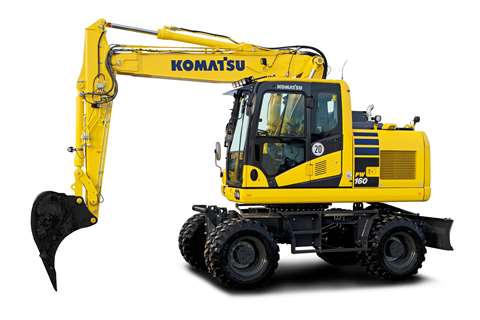 Based on its predecessor – with the same basic machine dimensions, linkage and main hydraulic valve – the PW160-11 features operating weights ranging from 16.7 to 18.6 t while the engine output is 110 kW (150 hp) at 2,000 rpm.
A Komatsu Diesel Oxidation Catalyst works together with the engine and other aftertreatment components for improved efficiency and longer life. The new integrated Selective Catalytic Reduction system further reduces NOx emissions by 80% using AdBlue. The excavator is also equipped with the exclusive Komatsu Equipment Management Monitoring System, with enhanced diagnostic features.
"A lot of work went into the redesign of our dash 11 wheeled excavators, with a dramatic increase in versatility for customers," said Komatsu Europe product manager Sebastian Zienau.
"Joystick steering, an integrated system for controlling tools and the factory-installed quick couplers also boost performance and efficiency."