Laing O'Rourke for Swansea Lagoon
By Sandy Guthrie26 May 2015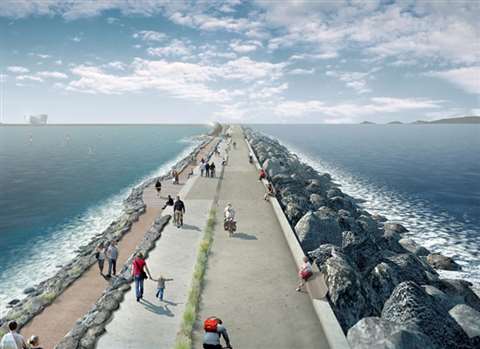 UK contractor Laing O'Rourke has been named as preferred bidder by the Swansea Bay Tidal Lagoon in South Wales for the approximately £200 million (€282.8 million) contract to deliver the lagoon's 410m turbine house and sluice structure block.
Tidal Lagoon (Swansea Bay), the company behind what is claimed to be the world's first tidal lagoon power plant, said this element of the build would require up to 500 workers at peak construction, a substantial number of whom would be local to South Wales. Concrete, reinforcing and other materials will also be sourced locally, it said.
Laing O'Rourke has named Arup as its lead design and engineering partner for the contract.
With the appointment of Laing O'Rourke, the £1 billion (€1.41 billion) Swansea Bay Tidal Lagoon has seen the conclusion of one of the project's main civil engineering and construction package tenders.
Andrew McNaughton, who has joined Tidal Lagoon Power as director of engineering and construction, said, "Announcing that Laing O'Rourke is joining the team is a major step forward for the project. As preferred bidder, its contribution over the next few months alongside General Electric and Andritz Hydro will be invaluable in preparing for delivery on site in 2016."
The company said that following advanced works and value engineering, a fixed price contract would be signed later this year for the main build. Tidal Lagoon Swansea Bay has also run tenders for the project's marine works package and for a package to provide public realm ancillary works.
Further tenders for the construction of a turbine assembly plant in Wales, and for the lagoon's public realm and buildings work will proceed through the summer.