Lambertsson Kran pairs synthetic rope with Grove AT crane
By Ian Vallely13 February 2017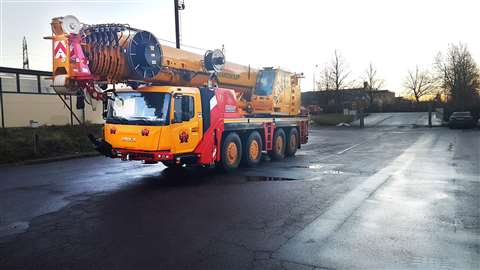 Sweden's Lambertsson Kran is taking delivery of a Grove GMK4100L-1 all-terrain mobile crane and Samson K-100 synthetic rope and will bring them together for the first time.
The company chose the 100 tonne GMK4100L-1 for its compact footprint and reach; it has the best load charts in its class and a narrow 2.55 metre width. The 'L' denotes it's the long boom version, with a reach of 60m.
The crane's two hoists will each be fitted with K-100. Lambertsson Kran learned of K-100 at an open house sponsored by Scanunit, a Helsingborg-based Samson dealer. The company said it was intrigued by its potential to increase return on investment, namely its lower maintenance requirements (such as a lack of greasing or lubing), environmental benefits (such as a lack of oil usage) and its ease of handling in reeving.
"The GMK4100L-1 is a compact crane and ideal for lifting jobs in the city, and in factories with tight working quarters," said Claes Jakobsson, region manager with Lambertsson Kran.
"With K-100, we can reduce the weight of the crane and carry more counterweight, which will help us as we primarily use the Grove as a taxi crane performing lifts in the city of Malmö. K-100 will also make it easier for the operator to reeve the rope on the jib and hook blocks."