Lambertsson secures big site hut order
By Lewis Tyler05 September 2022
Rental company Lambertsson is to provide renewable materials manufacturer Stora Enso with 73 temporary accommodation units for use at one of its paper mills in Sweden.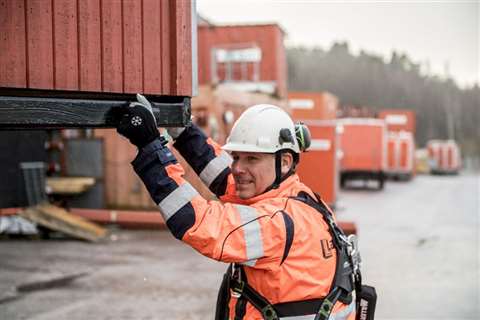 The order consists of 50 site huts with changing rooms and dining areas, 20 toilet units and three office spaces, all of which will be used by 300 workers during a planned maintenance shutdown at the Nymölla Mill.
Lambertsson will also put up a 100 m of fencing to protect staff from the heavy traffic in the area.
The maintenance works are due to begin later this month (September 2022), which is when the Sweden-based company will need to install and have the sheds operational by.
Staffan Martinsson, Project Manager at Lambertsson, said, "Everything is placed according to a detailed drawing and we make sure that all transports get to the right place in the right order.
"Shortly thereafter, the sheds will be returned and by getting a good flow, we can keep costs down for the customer."
The mill, which produces chemical pulp and wood free uncoated paper for the manufacturing of packaging materials and other biodegradable containers, was also shutdown last October and saw Lambertsson provide temporary accommodation units from its Ängelholm facility.
Martinsson added, "This is the second time in a short time that we have received this trust from Stora Enso.
"The advanced logistics place great demands, but Lambertsson can guarantee an establishment on time at a competitive price. The fact that Stora Enso is hiring us again is for me proof that we have previously made a good delivery."