Latvia awards €430 million Rail Baltica contract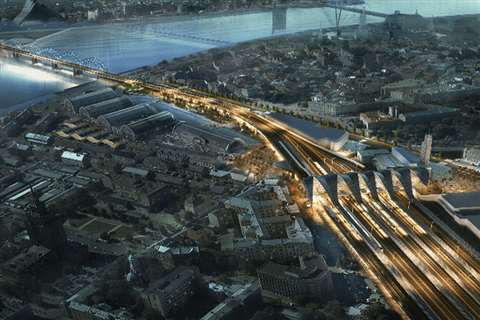 The Latvian Ministry of Transport's executive agency has awarded Besix and Sia Rere Būve the design and build contract for the Rail Baltica Central Station project in Riga, Latvia.
The contract, which also includes the construction of a 1.1km railway bridge on the Daugava river, railway embankments and track works, is worth approximately €430 million.
With an area of 12,600m2, the Central Station building will comprise a long-span steel structure with a 2,100m2 glazed roof. Works also include passenger platforms, the renovation of the existing station building, pedestrian tunnels, a traffic junction and associated demolition works.
Rik Vandenberghe, CEO of Besix, said, "Besix is very proud to participate in the construction of the Rail Baltica project. This is a major infrastructure project, for Latvia and the Baltic states of course, but also for Europe as a whole and the economic integration of the continent.
"The Central Station project, located in the heart of Riga, presents a high level of complexity that Besix, along with its partner Sia Rere Būve, is honoured to achieve. In this regard, the Republic of Latvia can count on Besix's Engineering department and operational staff, in particular on their extensive expertise in the construction of state-of-the-art transport infrastructure, to make this project a great success."
The European Union is financing 85% of the project, with the other 15% coming from the Republic of Latvia.
In addition to the new facilities, the joint venture will also install, plan and coordinate all temporary infrastructure to ensure rail traffic flow during the works.
The Rail Baltica Central Station project is part of the €5 billion Rail Baltica Project. The largest infrastructure project in the Baltic region for a hundred years, its objective is to integrate the Baltic states in the European rail network.
Financed by the European Union, Estonia, Latvia and Lithuania, it covers a distance of 870km and will connect the railway infrastructure of the Baltic states with Northern and Western Europe.
Historically, the Baltic states have been part of the West-East rail corridor using the 1520mm track gauge instead of the European rail network's 1435mm gauge.