Launch offers birds-eye view of projects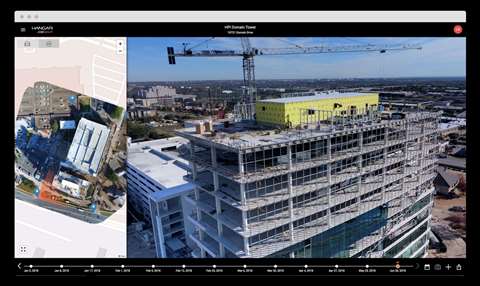 Digital airspace specialist AirMap has announced the launch of its JobSight drone platform into Europe, Africa and the Middle East.
The technology offers a drone solution designed to be integrated into a project's daily operations, offering an enhanced overview of progress.
Within the system, which has built-in flight automation technology and airspace compiance, JobSight offers job scheduling and route planning software, as well as automated asset capture.
The platform, which is already being utilised in the US, also boasts the construction management software Procore, allowing construction professionals to view drone capture in the context of their projects and facilitate visual communication across teams.
Nicolas Lavialle, AirMap's director of EMEA Enterprise Sales, said, "By harnessing automation and integrating drones into their day-to-day operations, construction firms can gain critical and actionable site intelligence, saving time and money.
"We are proud to be officially making JobSight available to construction businesses across Europe, Africa and the Middle East - particularly right now, when drones can play an important role in remotely surveying sites, documenting project progress, and performing contactless safety inspections."
The new launch from AirMap comes as dates are announced for the Commercial UAV Expo Americas, which will take place between September 15 and 17, at the Paris hotel in Las Vegas.
One of the themes of the event will be the challenge within the unmanned aerial vehicles sector of engaging companies with a business case for drones, not just to assist during the coronavirus crisis, but to improve workflows and KPIs for the long term.
The expo organisers will be hosting a webinar tomorrow, May 21, from 4:00pm to 5:30pm Eastern Standard Time, entitled Getting America Back to Work Using Drones.
You can register for this free webinar here.