LGH UK invests in 520 tonne hydraulic cylinders
By Leila Steed18 June 2021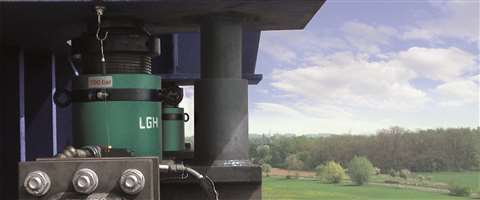 LGH UK has added new high capacity Hi-Force 520 tonne hydraulic cylinders to its rental equipment offering.
Part of the USA-based LGH group, LGH UK relaunched in 2006 after being absent from the market for around ten years. It now operates branches in Manchester, Aberdeen and Crayford, which will now incorporate the new hydraulic cylinders into the company's range of specialist hoists, lifts, jacks and rigging equipment.
Designed for low-height jacking applications on infrastructure projects, LGH said its new "lock ring, single-acting cylinders are primarily aimed at the bridge building and repair sector".
While LGH did not disclose the number of units or the value of the investment, Phil Smith, head of asset management at LGH, said, "As always, we want to offer our customers equipment from trusted manufacturers all tested and certified, ready and waiting for immediate delivery.
"We believe these Hi-Force cylinders will plug a gap in the market and become an increasing part of our flexible rental packages that are available for both public and private sector clients".
The addition of the cylinders, which join the company's range of spreader and multi-lug beams, slings, shackles and compressive load cells, comes as the UK government ramps up its infrastructure spending.
To counter the economic impact of the pandemic, the UK - along with other countries around the world - is increasing and speeding up its spend on major projects, as a way of driving economic growth. 
Smith said, "In its most recent spending review, the government set out its plans for a 'once in a generation investment in infrastructure' and our fleet is now geared up to meet this this ambition.
"We know for example that over 3,000 UK bridges have been identified as needing repair work and with reduced Covid restrictions leading to increased traffic on our rails and roads, this remedial work will be crucial if the UK is to keep moving forward."
LGH, which has plans to double its world-wide presence with the addition of new branches in countries such as Russia and the UAE, said the new 520 tonne cylinders means it will be "one of a few suppliers able to offer hydraulics up to this capacity from its own UK stock".