Lidl's biggest UK warehouse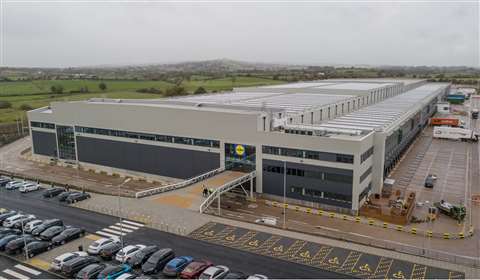 German discount supermarket chain Lidl is to build its largest UK regional distribution centre in Luton, UK, to service Greater London.
Covering an area of 93,000m2, the warehouse will be more than double the size of any other Lidl UK distribution centre to date.
In conjunction with Lidl's three other Regional Distribution Centres for Greater London, it will manage the supply and distribution of food and non-food products to Lidl stores in and around the M25, while supporting the supermarket's continued growth in Greater London.
The 23ha site on which the warehouse will be built is located at junction 11A of the M1 motorway and was sold by Houghton Regis Management.
It is part of a 255ha plot that is directly accessed by the new junction 11A and will also comprise 5,000 new houses, three primary schools and a further 93,000m2 of commercial and retail space.
The new warehouse forms part of Lidl UK's £1.45bn expansion investment in Great Britain between 2017 and 2018.
It follows the opening of two new regional distribution centres in Exeter and Wednesbury in 2017, and the announcement of a further three new warehouses in Doncaster, Bolton and Peterborough.
Construction has also begun on two new warehouses in Avonmouth and Eurocentral, Scotland, which will replace its existing warehouses in Weston-Super-Mare and Livingston.
Ingo Fischer, Lidl UK board director for expansion and development, said, "As more London households choose to shop at Lidl, we are committed to the continued investment in our operations and infrastructure to support our growth.
"With five new stores opening in the next two months alone, and further store expansion and development plans in place for the Greater London area across the new financial year and beyond, this new warehouse is vital in supporting our ambitious expansion plans in and around the M25."