Liebherr adds to EC-B tower crane range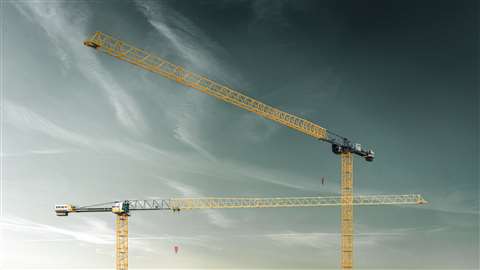 Manufacturer Liebherr has added the 300 EC-B 12 Fibre and 270 EC-B 12 to its EC-B series of flat top tower cranes.
The new 12 tonne capacity models replace the 250 EC-B and 278 EC-B Fibre.
A synthetic fibre hoist rope on the 300 EC-B 12 Fibre model gives improved performance over a steel rope version, Liebherr said, with a much longer service life which means that the rope has to be changed less frequently, the company claimed. It can have a jib up to 70 metres at the end of which capacity is 2,850 kg. Jib length can be altered in 2.5 metre increments.
Key features of the new models are simple transport and erection, Liebherr said, which means further cost benefits for rental companies.
Both new models can be used on the 2.1 metre 21 HC 290 tower for a maximum free-standing hook height of 71.5 metres. Using the 24 HC 630 (2.4 x 2.4 metres) tower gives a maximum freestanding height of 91.7 metres.