Liebherr announces 2,500 tonne crawler crane
By Alex Dahm05 April 2022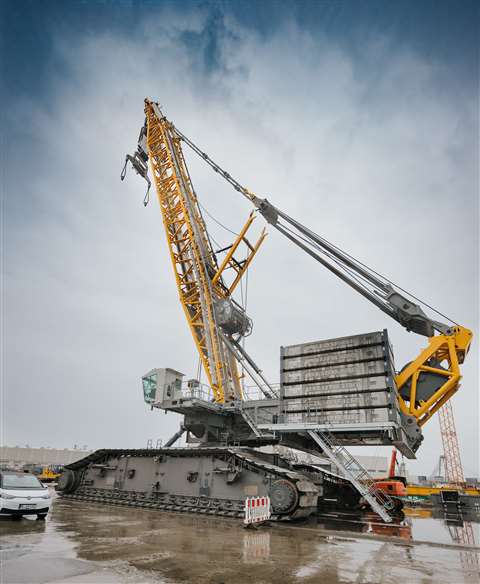 A 2,500 tonne capacity lattice boom crawler crane is new from Liebherr-werk Ehingen in Germany.
The LR 12500-1.0 fits in the upper end of the product range between the 1,350 tonne capacity LR 11350 and the 3,000 tonne capacity LR 13000. It has several distinctive design differences from other Liebherr models.
The boom is wider and gives the same stability as using the double lattice PowerBoom or the SX boom, the manufacturer said. It is called HighPerformanceBoom. Its maximum length is 100 metres but it can be extended using sections from the luffing jib. A short version of the luffing jib makes a WV type jib for vessel lifting, typically tall columns in petrochemical industry applications.
Erection of larger wind turbines will be another common application for this new giant.
The crane's maximum tip height of around 200 metres is achieved with 100 metre main boom and 108 metre luffing jib.
Design differences
The crane's superstructure is much narrower than existing models and the two main hoist winches sit on top of it instead of in between. The back mast is mounted at the front of the superstructure immediately behind the boom foot.
Easy transport is a key element of the new design. Largest is the 4 metre wide superstructure front section which can be transported on a low bed trailer. Other components come in at 3.5 metres wide or less.
Crawler units can have the tracks removed to reduce the 150 tonne overall weight of each one. Without tracks the crawler frames each weigh 97 tonnes and they can be split further, into two pieces.
Counterweight slabs are the same 25 tonne concrete ones as used on the LR 13000. They have twistlocks on each corner and can be transported like a 20 foot container.
Two engines
The narrow rear section of the superstructure houses a pair of engines. The Liebherr straight six diesels offer a combined output of 800 kW. Redundancy in the design means should one engine fail the crane can be operated, at reduced speed, to bring it to a safe position.
The first unit is on the test pad at the Ehingen factory in Germany and the first customer is international heavy lift and transport specialist Sarens based in Belgium. Delivery of that first unit is scheduled for the first quarter of 2023.
Carl Sarens, managing director, said, "The high lifting capacity of the LR 12500-1.0 is the outstanding feature for us. The new crane will enable us to close the gap between our crawler and ringer cranes. We are particularly focusing on jobs in renewables for the new 2,500 tonne crane. Handling offshore wind turbines at ports is also becoming a much more important business segment and the weights of components continues to rise."