Liebherr crane assembles Liebherr plant
By Christian Shelton23 August 2017
German crane contractor ESB Kranverleih Transport und Hebetechnik (ESB) has completed the assembly of a Liebherr concrete mixing plant using a Liebherr mobile crane.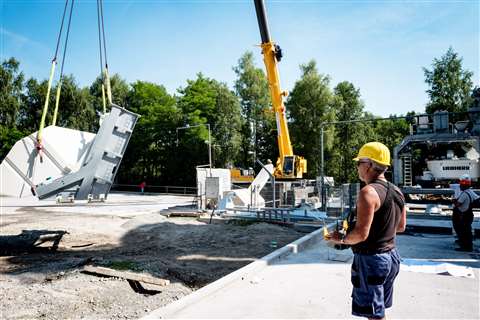 ESB used a new Liebherr LTM 1070-4.2 mobile crane for the initial assembly of the mixer and the erection of the feeder elevator. The mixer measured 2.5 m³ and was assembled, along with the rest of the Betomix 2.5 RIM plant, at a gravel works a few kilometres from the Liebherr concrete technology production works.
Liebherr stated that the new LTM 1070-4.2 mobile crane features all the company's latest innovations. These include: VarioBase – to allow the crane to be used safely in situations when the outriggers can't all be extended evenly; ECO mode – for lower fuel consumption; a new crane cabin; new one-piece steel wheel rims; and the latest generation of disc brakes.
ESB's new LTM 1070-4.2 is also fitted with a complete remote control system. Remote control is possible due to the LICCON2 controller, which has a Bluetooth terminal (BTT) as standard.
According to Liebherr, this means that all crane movements can be controlled from outside the crane cabin. This is useful for improving visibility and maximising safety. One of ESB's crane operators, Detlef Scharnefski, commented, "The remote control is brilliant. I use it for around one third of my crane work. For difficult assembly jobs I can see everything and it makes communication with people on the site easier."