Liebherr luffers build Thailand Supreme Court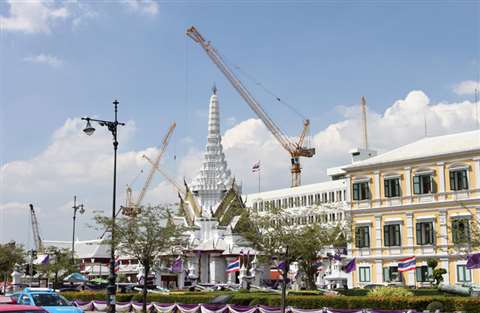 Contractor Sino-Thai in Thailand put four Liebherr luffing jib cranes to work on a project to build a new supreme court in Bangkok.
The building is in the centre of Bangkok's Rattanakosin Island conservation area, near the Grand Palace. The new supreme court, plus an office for the courts of justice, is being built on the site of the earlier court complex that was built in phases between the 1940s and 1963. Luffing jib tower cranes had to be used to avoid oversailing the Sanam Luang ceremonial ground in front of the site, or the city moat behind the building.
A pair of 125 HC-L 6/12 Litronic luffers and two 112 HC-Ls are working on the four storey building. Sino-Thai, one of Thailand's largest engineering and construction conglomerates, purchased the cranes from its subsidiary STIT Co Ltd, Liebherr distributor for the country.
Chupak Jirarojveerakul, Sino-Thai project manager, said, "These four cranes were previously used by Sino-Thai on a four-storey hospital project in Bangkok, where the footprint of the building was large, and stringent no-overfly restrictions prevailed. The Supreme Court has a long and narrow footprint, and we have adapted the configuration, deploying the four cranes at strategic points to ensure that all parts of the site are covered."
The 125 HC-L lifts 12 tonnes and the 50 m jib can be set between 15 and 70 degrees. Slewing radius is 7 m. The 112 HC-L has the same jib angles and, with a 45 m jib, can also lift 12 tonnes.
The four cranes are expected to be working on site for 12 months. The district is where Bangkok was founded as the capital of the country in 1782. The City Pillar Shrine, the first building erected, is adjacent to the Supreme Court site.