Liebherr relaunches CBO crane series
By Christian Shelton02 May 2018
Manufacturer of ship cranes, mobile harbour cranes, and offshore cranes Liebherr-MCCtec Rostock has relaunched its compact board offshore (CBO) crane series for applications on offshore platforms at the Offshore Technology Conference in Houston, USA.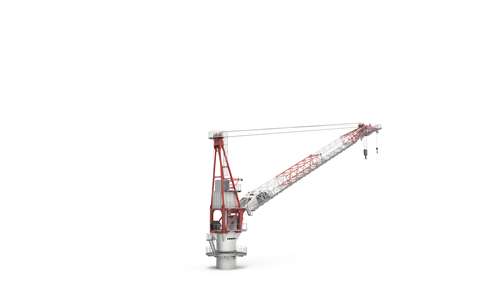 The CBO series is distinguished by its compact structure
Liebherr-MCCtec Rostock says the CBO series has been relaunched in response to customer feedback and will extend the company's portfolio for maritime solutions to a total of seven series.
The CBO series will comprise several models with different boom lengths and lifting capacities up to 100 tonnes. This, Liebherr-MCCtec Rostock said, means the CBO series is suitable for general purpose platform applications in the oil and gas industry.
In addition, Liebherr-MCCtec Rostock said that as the CBO cranes are compact in design, the series is suitable for maintenance and supply work where operating radius and space on deck is restricted. The tail swing radius is less than 4 metres. Liebherr said this means they can be mounted very close to obstacles such as the legs of a jack-up platform, for example.
The crane is based on Liebherr's lattice boom structure with A-frame, rope luffing and slewing bearing system while a centrally-positioned cabin is designed to provide an unobstructed view of the load.
Manufacture and testing of the new series will take place at Liebherr's maritime headquarter in Rostock, Germany, where Liebherr said its proximity to the Baltic Sea facilitates logistics.