Liebherr's Manipulator 100
By Christian Shelton20 November 2017
Liebherr Maritime Cranes has developed the Manipulator 100 – a manipulator for its ram luffing knuckle boom crane series. The Manipulator 100 can safely work with load of up to 100 tonnes and can help extend the service life of its offshore cranes, Liebherr said.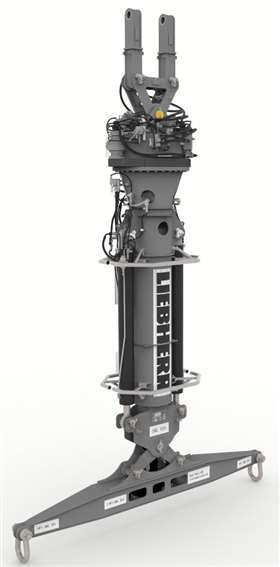 The Manipulator 100 can be used with either a hook or a crossbar, Liebherr explained, with the crossbar being particularly suitable for use in bad weather or for emergency operations.
Liebherr said the manipulator can either be used for swing-free lifting of components or, onboard, it can be utilised for more efficient material handling. According to Liebherr, currently load handling is restricted because conventional main and auxiliary hooks don't rotate, making lifting of loads within limited space difficult. However, as the Manipulator 100 can be rotated through 360 degrees, and it has a two-metre-long hydraulic telescoping arm, this difficulty is negated.
Liebherr says its RL-K 4200 and RL-K 7500 ram luffing knuckle boom cranes are particularly well-suited for use with the Manipulator 100. Both cranes are used for deep sea operations and pipe handling.