Liebherr sees 41% increase in 2011 wheeled loader sales
By Helen Wright17 October 2011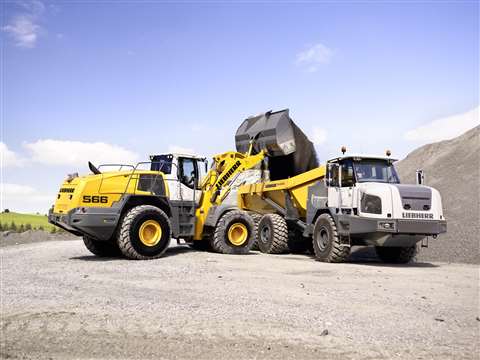 Liebherr said it expected to sell 2,700 wheeled loaders this year, a rise of 41.1% compared to 2010 boosted by increasing demand from developing countries and the introduction of new emissions legislation in Europe and the US.
And for 2012, the construction equipment manufacturer said it was "cautiously optimistic" despite "a slight cooling down of the demand situation on several markets". Its wheeled loader forward order volume for 2012 stands at 3,016 machines, up 14.6% compared with 2011.
Liebherr management board member Martin Gschwend said the company was pursuing a two-tier manufacturing strategy.
It aims to meet demand for machines with sophisticated engines that adhere to the Interim Tier IV and Stage IIIB emissions regulations in the US and Europe, while also manufacturing more basic wheeled loaders for sale in developing markets such as China and Latin America.
"The 3.5m3 [bucket] L 556 II wheeled loader, which is built at our Chinese production plant in Dalian has been on sale since the beginning of the year. It is the first Liebherr wheeled loader developed specifically for threshold nations' requirements. The next sizes of machine in this series are already being developed, and when this work has been completed we will be able to offer a product programme that matches the needs of the BRIC nations," Mr Gschwend said.
Next year the company is launching a range of large wheeled loaders with new engines ranging in size from 7 litres to 10.5 litres that comply with Stage IIIB exhaust emission limits in Europe and the Interim Tier IV regulations in the US. The new engines use cooled exhaust gas recirculation technology and a diesel particulate filter to achieve the required reduction in pollutants.
And the company said it would introduce even more sophisticated engines to meet the next stage of emissions legislation, known as Stage IV in Europe and Final Tier IV in the US. Liebherr said it would add a selective catalytic reduction system to the new engines in order to comply with this next wave of regulation, which comes into force from 2014.
Liebherr board of directors member Winfried Böhm said the company expected total turnover for 2011 to be €8.6 billion, up 13% year-on-year, while net profit is expected to grow to €500 million from €494 million in 2010.
Mr Böhm is retiring at the end of the year, and Andreas Böhm, who is a member of the directorate of Liebherr International, will take on Winfried Böhm's responsibility for the group's corporate communication activities in January, 2012.
Andreas Böhm will also assume responsibility for Liebherr's finance, reporting and group accounting.