Link-Belt to debut 175|AT
By D.Ann Shiffler04 October 2018
Product development is a business of secrets, especially when it comes to new cranes. All of the major crane manufacturers carefully guard their product development efforts to capitalise on the optimum time for product roll outs.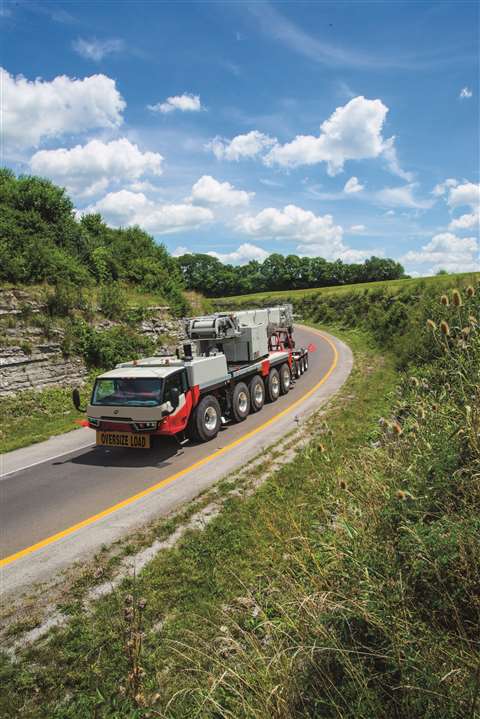 Some companies are more secretive than others, and Link-Belt has always been the market leader in keeping its product development under wraps, in my view. It's a tedious process, as they have to be able to talk to dealers and customers about market needs and trends and still keep their plans covert. Assuring that the Voice of the Customer (VOC) is incorporated in their cranes is an important part of the design process, according to Pat Collins, director of product marketing for Link-Belt.
"It's important to assure the customer has the lead in the design and product development of our cranes," Collins said back in May 2018, when I travelled to Lexington, KY to see and learn about the new models the company would be introducing through the summer and specifically for its CraneFest customer event this month.
While Link-Belt has introduced new or improved models in every product class, clearly the most distinctive is the new 175|AT. The 175-ton capacity five-axle AT represents a new generation in the company's all-terrain product range. The most distinguishing difference in this new model is the two-person cab and single engine concept.
Another important element of the 175|AT is that it was expressly designed to compete in the global market, Collins said.
The company's previous ATC line was mainly an American crane for the American market. The new 175|AT, complete with its Tier 4 final off-highway engine, was intended to work in markets around the world.
With a 42.7 to 197.3-foot six-section pin and latch greaseless main boom, the 175|AT features a three-piece on-board fly that measures from 10 to 32.5 to 55 feet. There are also three 18-foot lattice fly extensions. The crane has a total tip height of 315.1 feet and a maximum line pull of 23,500 pounds.
The single engine concept incorporates a Cummins QSX 15 diesel engine that is off highway Tier 4F/Stage IV compliant. The 535 HP, 15-liter engine has a 1,950 peak torque. With a ZF TraXon transmission, it has 12 forward and two reverse gears. The crane reports in the 111 to 130 metric ton class of ATs.
Dual occupancy cab
With five axles, the 175|AT has a high/low range and a standard 10x8x10 drive/steer drive train. There's also a tire pressure monitoring system to assure optimum tire safety and wear, an important feature, Collins pointed out.
The Link-Belt team is excited about the new dual occupancy 175|AT cab.
"This is not an off-the-shelf cab," said Rick Curnutte, Link-Belt's senior product manager, telescopic truck and all-terrain cranes. "We worked very closely with a third-party cab expert with emphasis on improving efficiency and reducing driver fatigue."
The air shock-mounted cab has powered windows, powered and heated side view mirrors and LED daytime running and indicator lights. The cab has an aluminum extrusion frame with fiberglass external construction. The driver's dash was designed with a 7.5-inch color display that includes easy user interface, diagnostic features and a side and rear-view camera display, Link-Belt said. There are LED backlit gauges as well as a 3.5-inch color LCD screen and a digital speedometer. The multi-function steering wheel has cruise control and engine braking controls. Creature comforts and conveniences include integrated heat and air-conditioning, blue tooth AM/FM radio and an automatic ride height adjustment.
Special detail was also paid to the driver's seat that includes a "smart seat" memory suspension system, enhanced back support, dual position air lumbar, heated seat and a ventilated seat cushion, Curnutte said.
Bells and whistles
The crane features Link-Belt's latest Pulse 2.0 – V-Calc system. In the operator's cab there's a 10-inch, full color, touch screen display that gives engine data, diagnostics and monitoring and operator aids information. The operator can customize the screen to his or her preferences, and the cab is Wi-Fi enabled for seamless software updates. The crane also includes Link-Belt's telematics system that monitors a wide range of customizable data points.
The new 175|AT was developed as an easy-to-learn and operate machine, Curnutte said. V-Calc offers 81 different asymmetrical outrigger configurations, real time 360-degree charts, incorporated swing arrest and an integrated rating capacity limiter. There's also a live preview mode for added convenience and safety.
The benefit of an all-terrain crane is being able to drive to the jobsite, but transportability can be tricky for this class of crane. With counterweights, the 175|AT has a gross vehicle weight of 130,998 pounds on five axles. Without the counterweights, the crane weighs 121,988 pounds.
To keep the weight of the crane down, Link-Belt went with the single engine concept. The crane carrier is 9.02 feet wide on 525 tires.
With full counterweights the 175|AT can be transported on two flat bed trailers carrying the counterweight system and lattice boom fly extensions. With the crane and just two overflow loads, Curnutte said the 175|AT is the most efficient to transport in its class.
With standard boom dolly provisions, including dolly camera, this crane was designed for travel in all geographical markets, he said. The 175|AT is capable of traveling with 11,000 pounds of counterweight on the crane and boom over the front under 26,500 pounds.
In the dolly configuration, the counterweight can be stowed in several different configurations to meet different weight requirements.
Copious testing
Careful thought and planning went into the design of this crane, Curnutte said.
"We knew we wanted to make it a five-axle crane from the beginning," he said. "About 60 percent of the North American all-terrain market are five-axle cranes. With this crane we started with a clean sheet of paper. I think our current customers and prospective customers will have a lot of interest in this crane."
Link-Belt developed three prototypes of this unit and has performed extensive testing on them. I saw one of these prototypes in the testing phase last spring.
"We wanted to make sure this was a solid crane and that it would offer the highest performance," he said. "The crane has done exceptionally well in field testing."
Link-Belt expects to start shipments of this model during the first quarter of 2019.
Link-Belt's recent product introductions
Link-Belt's product development department has been rolling out new and enhanced crane models since early summer. In addition to the 175|AT, here's a recap of the company's recent product introductions:
The 100-ton capacity 100|RT rough terrain crane debuts with a five-section, 40.6- to 155-foot full-power boom, an available two-piece 35- to 58-foot on-board offsettable fly and a 16-foot lattice insert extension. It has a maximum tip height of 237 feet.
The 300-ton capacity 348 Series 2 lattice crawler crane has a maximum boom length of 300 feet and maximum heavy duty jib combination is 240 feet plus 140 feet. Maximum long-range boom length is 355 feet and maximum long-range jib combination is 295 feet plus 140 feet. A maximum combination of 180 feet of luffing boom and 240 feet of luffing jib provides 420 feet of attachment and a tip height of 419 feet.
The TCC-1200 is an upgrade to the base rating of Link-Belt's 110-ton telecrawler to 120 tons. The main boom length is 40 to 150 feet. It has three track widths – extended 18 feet 2 inches; intermediate 15 feet 8 inches and retracted 11 feet 11 inches.