Link-Belt to unveil TCC-1100 telescopic crawler at ConExpo
By D.Ann Shiffler10 January 2011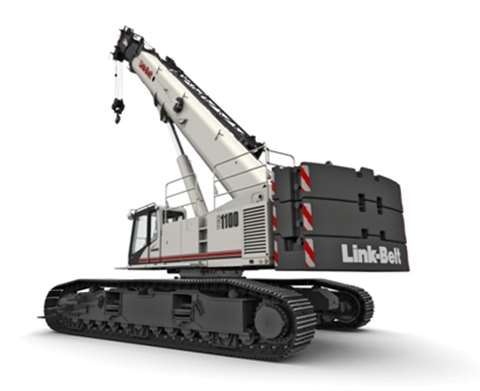 Link-Belt will unveil a 110 US ton (100 metric ton) TCC-1100 telescopic crawler crane at the ConExpo show, March 22-26, 2011 in Las Vegas, USA, American Cranes & Transport has learned exclusively.
The TCC-1100 is third in the Link-Belt telescopic crawler line. The company says the design of the larger TCC-1100 focuses on robustness, simplicity and reliability for the general contractor or bare rental fleet owner.
Link-Belt said the TCC-1100 has an impressive capacity chart at radius that rivals lattice crawler cranes with a similar base rating. Its full power boom, fabricated from ultra-high-strength steel and formed in Link-Belt's own boom production facility in Lexington, KY. The main boom is 150 feet (45.7 metre) long and incorporates Teflon wear pucks to eliminate the need for boom grease.
Fly jib options include a 31-55-foot (9.4-16.7 m), three-piece bi-fold lattice fly and a 10-foot (3 m) heavy-lift fly. The fly swings and pins into place and is integral to one of the on-board fly options. It has more than 20 tons (18.1 metric tons) of capacity and lift procedures for two-load-line picks. All flies offset to 2, 15, 30, and 45 degrees.
The TCC-1100 moves quickly and easily on or off the job site, requiring only four truckloads to transport, the company said. The main load weighs under 90,000 pounds (41 metric tons) and, on the trailer, is only 12 feet, eight inches (3.86 m) tall and 10 feet, six inches (3.2 m) wide. All overflow loads weigh less than 44,500 pounds (20metric tons), the company said.
Onsite the crane can be started and the carbody outrigger jacks deployed via remote control. On its outriggers, the crane sits wider to give a more stable self-assembly platform. Tapered axles are for easier sideframe installation and the 50,000 pounds (23 metric tons) of counterweight mount to the upper using Link-Belt's patented HSL lattice crane counterweight removal system.
The TCC-1100 can work at three track gauges: 19 feet (5.8 m) fully extended, 14.4 feet (4.4 m) intermediate, and 12 feet (3.7 m) retracted. It has two travel speeds and can travel up to 1.7 miles per hour (2.7 kph) to spend less time traveling and more time lifting.
Powering the TCC-1100 is a Tier IV Cummins QSL engine producing 320 horsepower (239 kW) and driving a variable displacement piston pump package. Simple pilot valves distribute flow to all functions. The winches have 21,022 pounds (9,500 kg) of line pull and a maximum line speed of 431 feet (131.4 m) per minute.
Other features of the TCC-1100 include tilting cab, a camera system for rear view and winches, 50,000 pounds (23 metric tons) of upper counterweight and 25,000 pounds (11 metric tons) of carbody counterweight and upper guard rails.