LiuGong launches electric wheeled loader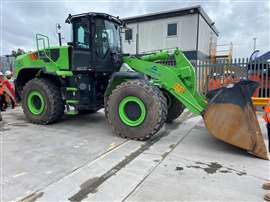 LiuGong has launched a new 21 tonne electric wheeled loader into the European market.
Powered by a 423kWh large capacity lithium iron phosphate battery from CATL, the 856HE is said to be the first fully electric wheeled loading available in Europe.
LiuGong said the machine has a duty cycle of up to 11 hours, depending on the type of work, and can be charged via a standard charge over 10 hours or a fast charge which takes the machine from 25% to 90% in 45 minutes.
The standard bucket measures in at 3.5m³, while its payload of 6.5 tonnes means it delivers on performance as well as sustainability, the company told IRN.
Meanwhile, servicing intervals remain the same as a diesel model (1000 hours), but the absence of common components found in diesel machines means significant reductions in servicing costs, according to LiuGong.
The first delivery of the machine has been made to London-based building material company Aggregate Industries, where it has undergone testing over the last six weeks.
A further machine is expected to be delivered to the company by the end of the year, while Nordic-based company Rental Group will take an initial order of 20 machines. 
Oliver Keates, wheel loader product manager at LiuGong said, "With the Scandinavian machines, green and carbon neutrality is one big benefit, as well as the working time of the machine and the cost benefits when compared with a standard diesel machine.
"The charging capacity on the machines generally will increase, and the availability of those chargers will become more frequent. The machine also delivers very small noise pollution, but you still have the productivity, efficiencies and the ability to have the machine work at full capacity when it needs to."