Liugong's largest loader
By Chris Sleight19 November 2009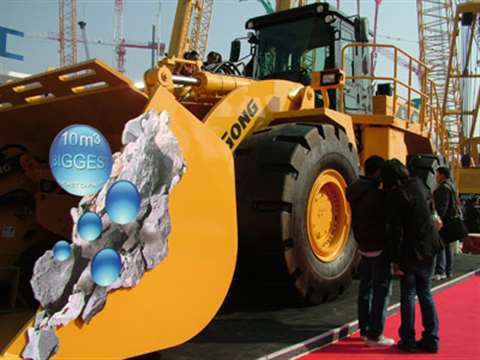 Liugong used the BICES exhibition in Beijing, China to launch its largest wheeled loader to date.The 899 III features a 391 kW Tier 3/Stage IIIA compliant engine, and with a bucket capacity of 6.4 m3 to 10 m3, it is the largest wheeled loader made in China. The machine has an operating weight of 48 tonnes.
Despite being relatively unknown compared to the likes of Caterpillar, Komatsu and Volvo, the size of the Chinese market is such that Liugong is one of the world's largest wheeled loader manufacturers. According to company president Zeng Guang'an, Liugong's domestic market share has grown by three percentage points this year to 23%. He puts the company's global market share at 17%.
The reason for this is the sheer size of the Chinese wheeled loader market. Data from specialist consultant Off-Highway Research forecasts that the Chinese wheeled loader market will hit 125000 units this year - that is more than three times the demand for these machines in the all the other countries of the world combined.
But the steep growth that has driven demand in China may be coming to an end according to Mr Zeng. "The Chinese market is already too big - that's my opinion. In the next two years I think the market will not be bad, but some products will come down," he said
Commenting on the wheeled loader segment he added, "This year the wheeled loader market will be down at least -20%, and next year perhaps -5%. Our customers' industries have changed, and that has affected demand. The Government has closed more than 10000 small coal mines in Northern China for safety reasons and to better utilise the resources.
In conclusion, Mr Zeng added, "The construction equipment population in China is more than 2 million. Maybe 3 million. It's huge."