London joint venture
By Sandy Guthrie31 March 2017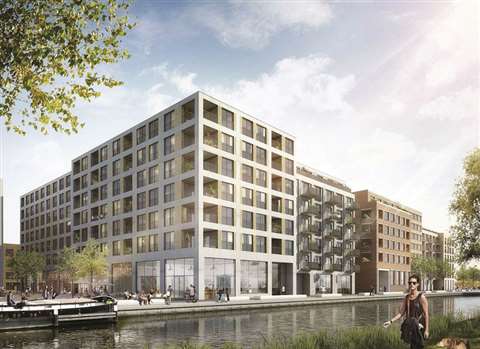 UK housebuilder Hill and London housing association Peabody are entering into a joint venture that will see two new regeneration projects deliver close to 900 new homes in East London.
Peabody's Fish Island Village site will be in the joint venture, alongside Hill's Lea Bridge Road development in Leyton.
Combined, the two sites are said to have a gross development value of over £350 million (€408.11 million) and represent the first joint ventures between the two organisations.
The brownfield site at Fish Island was previously warehouses and industrial buildings, overlooking the Hertford Union Canal. When complete, Fish Island Village will comprise 434 private apartments, 146 affordable homes and 5,300m2 of commercial space, of which 4.460m2 will be operated by shared workspace company The Trampery.
Fish Island Village has been designed by Haworth Tompkins, Pitman Tozer and Lyndon Goode Architects.
Each of the one-, two-, three- and four-bedroom apartments and maisonettes will be located around a series of landscaped piazzas and courtyards, which are designed to create vibrant and thriving communal areas.
Hill and Peabody's partnership with The Trampery is said to aim to inspire creativity among entrepreneurs by incorporating studios, workshops and a gallery.
The Lea Bridge Road site, designed by Pollard Thomas Edwards Architects, will see 300 new homes built, including at least 62 affordable properties. The scheme comprises nine residential blocks up to 18 storeys in height, set around a landscaped central courtyard, with 1,950m2 of ground floor commercial space and a gym.
Andy Hill, CEO of Hill, said, "This strategic joint venture with Peabody is a significant milestone for Hill. Our London presence has grown steadily over the last 15 years, but these two new projects cement us a key player in city centre regeneration."
Stephen Howlett, CEO of Peabody, said, "Peabody and Hill share a common approach and long-standing commitment to providing distinctive, high-quality new homes across a range of tenures.
"Peabody's new development programme constitutes almost £2 billion (€2.33 billion) of investment in new housing, and we continue to look for opportunities that will help us to do more to tackle the capital's growing housing crisis."
The first homes at Fish Island are expected to be completed in early 2018, and the first at Lea Bridge Road will be complete in 2019.