Mabey supports dam
By Leila Steed20 May 2019
Mabey Hire, a temporary works solutions provider, has revealed its involvement in the construction of a new flood barrier in the UK.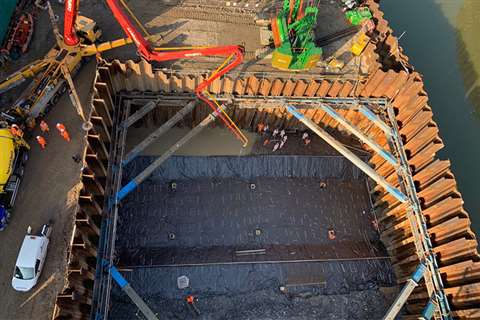 The company, which offers engineering and rental services, provided a series of struts and frames to support the walls of a water-tight excavation area, known as a cofferdam, in which the new flood gate is being built.
The sea defence is part of the £100 million (€113 million) Boston Barrier project. which will help protect more than 14,000 homes and businesses from tidal flooding.
The company was brought in to work on the project by contractors BAM Nuttall and Mott Macdonald Joint Venture, on behalf of the UK's Environment Agency.
The project is located more than 200km north of London on the east coast of the UK and is due for completion in early 2021.
Gordon MacDonald, CEO of Mabey Hire, said, "This project is a prime example of our ability to provide bespoke, engineered solutions to unique challenges within a short period of time. Since the frames were installed, we're on 24-7 call to support as needed."
According to Mabey Hire, work on the cofferdam included designing struts that could cope with an eccentrically loaded structure, as the varying currents and tide levels of the water surrounding cofferdam's walls resulted in loadings ranging up to approximately 500kN/m. .
The company said it designed the struts with these different load cases in mind, to ensure the cofferdam remains stable and watertight as works progress. It added that its engineering experts also supplied a Supershaft Plus hydraulic frame, alongside Super Bracing struts.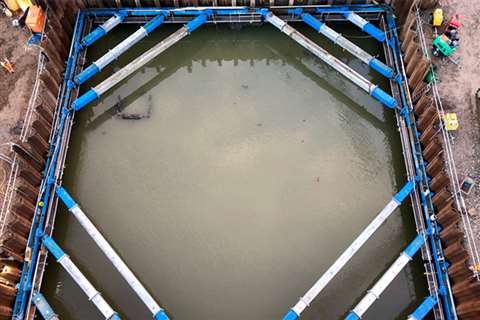 Steve Lowder, Project Director at BAM Nuttall said, "Working with a cofferdam is always tricky, let alone with the added challenge of varying and significant loads due to the tide range and the depth of excavation. Mabey Hire's rapid strut design enabled us to secure the cofferdam as quickly as possible, so excavation work could progress quickly, safely and efficiently."