Major UK tunnel breakthrough as TBM reaches halfway point
By Mike Hayes28 February 2023
Transport for London (TfL) has announced that the first bore of the 1.4km-long twin-bore Silvertown Tunnel in east London has been completed.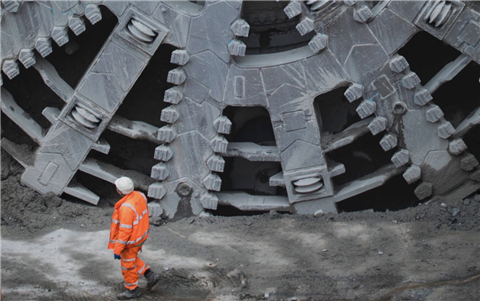 The excavation was undertaken by an 82m-long, 11.9m-diameter TBM (tunnel boring machine) named Jill – the largest diameter TBM operating in the UK.
The TBM completed its 1.1km drive this month, after launching from Newham on the south side of the river Thames in September 2022.
The construction project is being undertaken by Riverlinx, a joint venture of BAM Nuttall, Ferrovial Construction and SK Ecoplant, on a build, finance, operate and maintain basis, with an estimated value of €2.3 billion over a 30-year period.
Engineering challenges
As well as the size of the TBM, a number of factors make the project uniquely challenging, including the busy London location and the demand for sustainable construction methods, including the use of equipment that meets the requirements of the Ultra Low Emission Zone.
At the Greenwich site, where the TBM broke through, a 40m rotation chamber has been constructed, in which the machine will be broken down and turned before being reassembled and heading in the opposite direction for the second bore.
During this complex process, sections of the TBM – including its 1200 tonne cutting shield – will be spun 180 degrees within the chamber, using what Riverlinx calls 'nitrogen skates'.
Sustainable methods
So far, some 275,000 tonnes of material has been excavated by the TBM. This material is removed by a conveyor system, where it will be loaded onto barges on the Thames, significantly reducing the number of lorry movements.
TfL is currently monitoring air quality in the area, to ensure the impacts of the Silvertown Tunnel are fully understood, and to support the delivery of the overall air quality improvement expected as a result of the scheme and within the requirements of the Low Emission Zone.
To that end, 38 diffusion tubes and three continuous monitoring stations recording nitrogen dioxide (NO2) levels have been installed and TfL has also installed additional monitoring of particulate matter in Newham.
Helen Wright, head of the Silvertown Tunnel programme at Transport for London (TfL), said, "We are committed to working hard to ensure that this project is delivered with minimal impact to those living, working and visiting the local area and have extensive monitoring in place to ensure than this continues to be the case during and after construction."
Juan Angel Martinez, project director at Riverlinx, said, "The solutions we are implementing are pioneering for the UK market and we continue to be committed to completing the project expertly in the most efficient, sustainable way and to the highest level of safety and quality."