Making a strong case for Case
By Mike Hayes13 April 2016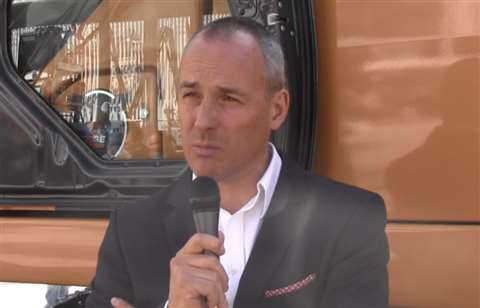 On day two of Bauma in Munich, Germany, Andy Blandford, Vice President, Construction Equipment, EMEA at CNH Industrial, revealed Case Construction's aim for growth through more efficient production facilities.
He said, "The key element of our growth is having an efficient manufacturing footprint. And our approach is very simple, it's to focus on technical and manufacturing expertise for each one of our product families in one place – and that place is close to our customers.
Mr Blandford went on to describe two projects Case currently has underway to improve efficiency: Firstly, developing its excavator hub in San Mauro, which includes the introduction of Sumitomo crawler excavators into production.
This is exciting, Mr Blandford said, because it builds on 20 years of successful collaboration with Sumitomo.
The second is the development of the Case wheeled loader hub in Lecce.
This facility is focused on five product families; wheeled loaders, compact wheel loaders, tracker loader backhoes, graders and telescopic handlers and has also made significant investment in new manufacturing technologies, in-sourcing all the key manufacturing processes that go into making its machines.
Mr Blandford said, "Our aim is to put all of our expertise at the service of our customers."
He added, "The tangible effects of these changes can be seen in the continuous renewal of our product range, the development of our technologies and services, and, importantly, the development and strengthening of our dealer network, to support our customers."
On the subject of Case's parent company, he said, "To help us achieve our ambitious aims, we have the backing of a very powerful group – CNH Industries.
"With revenues of US $25 billion, and operating profit of almost $1.5 billion in 2015, CNH Industrial has the resources to support and nurture the Case Construction Equipment brand.
"We devote around $220 million dollars every year into research and development," he said, adding, "Last year, in very challenging conditions, our operating profit and our margin increased by just over 14% and a percentage point respectively.
"The results," he said, "tell us we're on track – and we've improved them year on year."