Makita offers more powerful cordless tools
Makita has introduced a new XGT 40V Max range of cordless power tools, powered by lithium-ion batteries.
Standing alongside the company's existing LXT range, the new line-up offers increased output.

Kevin Brannigan, Marketing Manager at Makita, said, "With XGT, you can experience the same high power associated with corded and petrol machines, but with the increased flexibility of cordless – making XGT the ideal solution for high demand, industrial applications.
"The complete solution of our existing LXT 18V system and the new XGT 40V platform offers even more battery-powered solutions for a truly cordless job site."
When a higher voltage battery is used, there is a trade-off between power and run-time. So in this instance, Makita's research and development team has kept the voltage the same but improved the design of the tools, incorporating technologies that optimise their performance.
The tools have also been engineered with durable design features to minimise damage and withstand tough environments.
They have a heavy-duty outer casting and cell holder, and the shock-absorbent housing protects the battery if the tool is dropped.
Each battery is also IPX4 rated, which means that it is splash and shower proof, and water ingress is limited. The design also prevents damage from dust.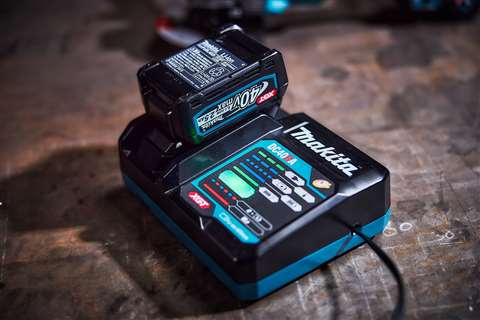 To optimise battery performance and charge times, the XGT range features Makita's smart system technology. This in-built programme allows digital communication between the battery and the charger, as well as the battery and the tool, to provide protection against issues such over discharge and overheating.
So, for example, if the battery has overheated, the charger will cool it down before charging begins, to speed up the charging process.
To charge the batteries, Makita has launched the DC40RA 40V Max fast charger.
The XGT range includes combi drills, grinders, rotary hammers, impact drivers, circular saws and reciprocating saws.