Makita updates saw model
By Joe Malone20 June 2018
Japanese tool manufacturer Makita has updated its DSP600 twin 18v brushless plunge saw model which it first launched in 2017.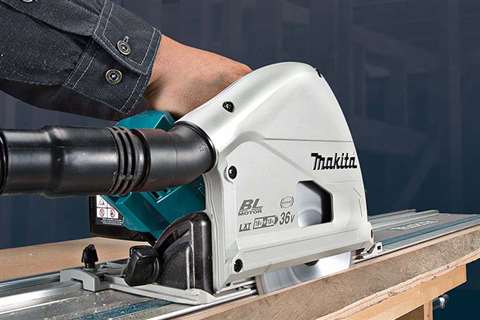 The updated model now features a 36v motor as well as the company's own auto-start wireless system (AWS). The AWS technology allows the new model to automatically connect to the compactible Makita dust excavator, rather than manually switching it on.
A unique chip is supplied with the new plunge saw that enables the user to pair it up with the selected dust extractor. When the models are paired, the dust extractor automatically starts once the trigger on the saw is pulled.
This plunge saw is powered by two 18v lithium-Ion batteries in series to supply energy to the 36v DC motor drive system. It generates as much power as the AC mains machine that can drive the 165mm blade up to 6,300rpm, and provides a maximum cutting depth of 56mm with the vertical blade setting.