Mammoet installs 1,500 ton airport bridge
By Leila Steed02 March 2020
Mammoet transported and installed an elevated pedestrian walkway bridge at Seattle-Tacoma Airport in the United States.
The prefabricated walkway, part of the airport's US$968 million expansion, weighed 1,472 US tons (1,335 tonnes).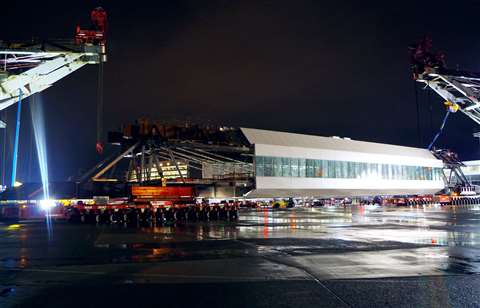 Mammoet used 56 axle-lines of self propelled modular transporter (SPMT) in a four-point configuration, with one set of SPMT at each corner, to transport the structure from an assembly area. It was hauled 3 miles (5 km) down the airport's central runway to its installation location – Seattle-Tacoma's new arrivals facility – while runways on either side remained open to air traffic.
In less than three hours, Mammoet moved the walkway into positioned between two of the airport's piers, where erection crews took over. The crews used a strand jack system with four 900 ton steel frames to lift the prefabricated structure.
With just a 1.5 inch (38 mm) tolerance for a precise fit, it was then welded into place between the two piers at a height of 22 metres above the ground.
The transport and installation of the walkway was done at night when airport traffic way lowest. This allowed the entire operation to be completed in just two nights, which minimised disruption at the airport.
The newly-installed walkway is only the second in the world with enough space to allow a Boeing 747 aircraft to pass beneath it. International passenger capacity will be doubled to 2,600 people per hour. Seattle-Tacoma's international arrivals facility is scheduled to open in the second half of 2020.