Mammoet installs 14,000 tonne platform
By Laura Hatton18 August 2014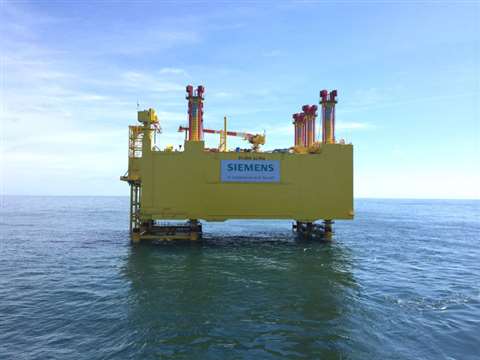 International heavy lifting and transport specialist Mammoet helped install a 14,000 tonne power platform into place in the North Sea.
The SylWin Alpha power platform weighs 14,000 tonnes and measures 83 metres long, 56 m wide and 26 m high. It was built by Siemens and installed by Seaway Heavy Lifting, maritime service provider Dockwise and heavy lifting and transport specialist Mammoet.
Due to its size and weight, the platform was moved from the pontoon to the jacket using the float-over method. Dockwise then installed the platform onto the legs of the jacket by ballasting the pontoon. Mammoet then used its strand jack system to lift the platform 15 m up to its final position on the jacket.
The SylWin Alpha will serve as a convertor for the DanTysk, Sandbank and Butendiek wind farms, which have the capacity to generate 864 megawatts of electricity. The SylWin Alpha platform transforms the alternating current generated by the 240 wind turbines into direct current. The energy is then transported through a 160 km long seabed cable and a 45 km long underground cable to an onshore high-voltage station in Büttel, Germany.