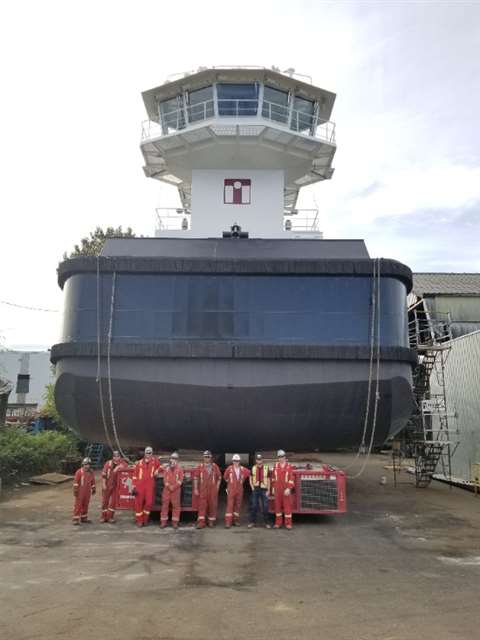 Mammoet completed the transport of two tugboats, each weighing 430 tonnes, from the Island Tug and Barge (ITB), Annacis Island facility in Canada, to Vancouver Harbour for berthing. The tugs, Island Raider and Island Regent, are each 23.9 metres long and 12.5 m wide.
Many obstacles were identified during an initial scoping of the transport route. One was a below-grade railroad siding and three sets of railway tracks between the yard and the steep bank of the river. There were also overhead powerlines, railway restrictions and constraining tidal conditions, Mammoet said.
Working with subcontractors and the client Tidewater, Mammoet came up with a plan to meet the challenges to load out and launch the ships.
For a start the ITB facility had no clear access to the water. Mammoet transported the tugs across rail lines while maintaining sufficient clearance from overhead powerlines. Self propelled modular transporter (SPMT) was chosen to carry the tugs. Precise movement was needed in the facility's congested footprint.
Having cleared the rail lines using a ramp, some 40 foot (12 m) ramps were then connected to a self-ballasting barge where a roll-on operation had to be done within a six hour time limit. Both tugs were loaded in time. Next was transport to Vancouver Harbour where they were lifted off the barge ready for transport to the Tidewaters Shipyard for completion.
Commenting on the project, Marc Schwartz, Tidewater maintenance and engineering manager, said, "This was a logistically intricate and technically challenging project. We put together a great team, overcame a lot of obstacles and safely launched the two vessels."