Mammoet rally team makes history
By Ian Vallely11 February 2016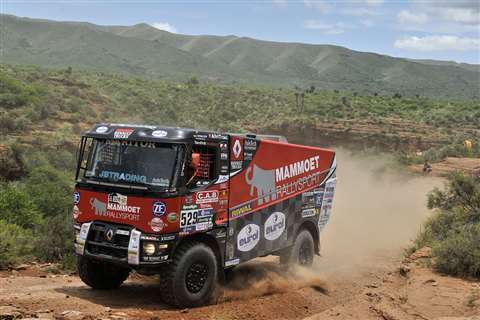 The Mammoet rally team made history when it finished sixth overall in the Dakar Rally 2016.
Team captain Martin van den Brink and second driver Pascal de Baar participated in the 38th Dakar Rally with two trucks.
They were challenged by a 9,237 kilometre long route with different terrains staring in Buenos Aires, running through Argentina and Bolivia, and ending in Rosario. Challenges included sand dunes, rocky terrain, river beds, steep inclines and 4,200 m altitudes.
Last October – in preparation for the Dakar Rally – team captain van den Brink won the Oilibya Rally in Morocco. Van den Brink plus navigator Peter Willemsen and mechanic Richard Mouw suffered a setback when their truck caught fire and was completely burned out during the first stage of the Dakar Rally.