Mammoet replaces 499-ton coke drums at Texas refinery
By Hannah Sundermeyer16 May 2023
A Mammoet SK350 crane aided in the efficient replacement of four coke drums at a Texas City, TX refinery. The replacement of the coke drums was part of a planned turnaround at the refinery's coker unit.
By utilizing the SK350, a 5,000-ton class crane, no preparation work was needed as the crane could lift the derrick as constructed, the company said. This allowed significant time savings for the client and other third-party contractors since they did not have to make modifications to the derrick for lifting ahead of time.
First the 174-foot tall derrick was removed so the coke drums could be reached. After this, one by one, the old 596,000-pound coke drums were removed and replaced with new, 998,000-pound coke drums. Once in place, the derrick structure was reinstalled.
Each of the eight coke drums was handled with the SK's auxiliary hook. Typically, lattice boom cranes have two hook blocks hanging from the boom. The main hook block is the crane's heavy-duty block that can handle the full lifting capacity of the crane.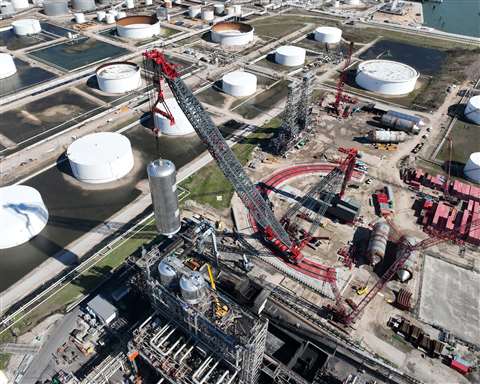 Hanging in front of the main hook block is the auxiliary or runner hook block, which is typically considered a light duty block. The auxiliary hook block moves up and down much quicker than the main block, hence its nickname "runner."
"Using the world's strongest land-based crane, Mammoet's international team comprised of six nationalities led the coke drum replacement project to a successful conclusion," said Sidney King, project manager, Mammoet. "With zero recordables and despite some weather downtime, the SK350 was able to complete all the client's lifts days ahead of their planned schedule, giving the turnaround an opportunity for an ahead of schedule completion."