Mammoet team wins in Monaco
By Leila Steed18 July 2019
The Technical University (TU) Delft Solar Boat Team, which is sponsored by Mammoet, has won the Monaco Solar and Energy Boat Challenge 2019 and become world champions.
Using only clean energy and alternative propulsion systems, the challenge required the 28 member cross-faculty team to design, produce and race a fully functioning solar-powered boat over 90 kilometres of open water in two days.
Paul van Gelder, Mammoet CEO, said, "As a proud sponsor of TU Delft Solar Boat Team, Mammoet would like to congratulate the team of 28 students who overcame some challenging setbacks to triumphantly cross the finish line."
It was the first time the TU Delft Solar Boat Team had participated in the offshore class and Mammoet said the team's victory was even more inspiring given the major setbacks the team suffered before and during the race.
During the last tests in preparation for the challenge, one of the boat's wings broke off and, following the successful completion of the race on the first day, damage to the electrical system around the solar panels was discovered. Unable to repair the damage in time, the team sailed the race on the second day with only the energy stored in the boat's batteries. Despite having to race at lower speeds, the team strategically balanced energy consumption and battery capacity, and crossed the finish line almost twice as fast as their fellow competitors.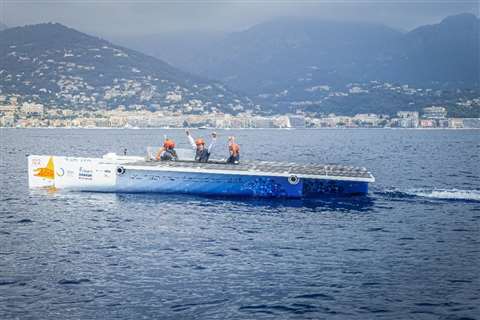 According to Mammoet, the team will now focus their attention on making a world record attempt to cross the English Channel, the 32 kilometre stretch of sea between Calais, France and Dover, UK, as the fastest solar boat.
The event, which has been running since 2014, is organised by the Yacht Club de Monaco, in collaboration with the Prince Albert II of Monaco Foundation and the International Powerboating Federation.