Mammoet unveils first components for 'world's largest' electric crane
Mammoet, a heavy lifting and transport solution company, has reached a significant milestone in the construction of the SK6000 ring crane.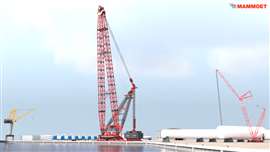 What is said to be the world's largest and highest-capacity electric crane, Mammoet's SK6000 ring crane, has had its first components fabricated.
As the offshore wind industry continues to grow, the ability to launch foundations and build turbine sections without reconfiguration will maximise project efficiency, says Mammoet.
The SK6000, like the rest of the SK series, can be operated entirely from electric power, reducing the carbon impact of projects.
Mammoet highlights that the first parts have been produced in the Netherlands, and work continues ahead of its assembly program later this year. The crane is capable of lifting 3,000t components at 220m hook height and has a maximum radius of 144m, enabling it to take on lifts in the 3,000-6,000t range, such as suction bucket jackets, XXL monopiles, and floating wind foundations.