Mammoet wind farm jacket foundations job
By Christian Shelton12 April 2018
Heavy lift and transportation specialist Mammoet has been contracted by fabrication, engineering and contracting services provider Lamprell Energy for the heavy lifting and transport of 60 jacket foundations for the East Anglia One offshore wind farm project in the North Sea off the coast of the UK. Mammoet said it has already loaded out the first batch of these jackets.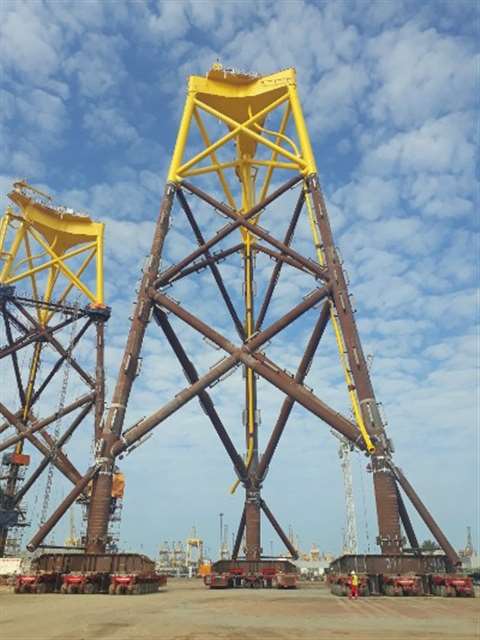 Lamprell was awarded the fabrication and supply of 60 jacket foundations and their accompanying piles. Lamprell contracted Mammoet to carry out the heavy lifting and upending, weighing, transport and load-out of the jackets at Lamprell's Jebel Ali, Hamriyah and Sharjah yards in the United Arab Emirates. Once complete, the jackets will be loaded onto a specialist ship bound for Europe.
Michel Bunnik, Mammoet's regional sales director, said, "Mammoet is proud to be the partner of choice for the heavy lift and transport services for Lamprell and excited to have the opportunity to contribute to a project of such a significance."
According to Mammoet, once complete the £2.5 billion offshore wind farm, owned by ScottishPower Renewables, will comprise 102 turbines capable of generating a total of 714 megawatts – enough to power more than 500,000 British homes every year.