Manitou & Deutz develop electric telehandler
By Murray Pollok20 September 2018
Manitou is working with Deutz to produce electric and hybrid versions of its rough terrain telehandlers, with prototypes of two models handed over to Manitou during Deutz's ELECTRIP event in Cologne. The machines are an all-electric MT 1135 handler and a hybrid MT 1335.
The full-electric MT 1135 is equipped with a 360 V power supply and a 60 kW electric motor. The battery, with 30 kWh capacity, ensures that the required level of energy is delivered. The MT 1335 is normally supplied with a 75 kW Deutz TCD 3.6 diesel engine, but the hybrid version uses a smaller 55 kW Deutz TCD 2.2 engine coupled with a 20 kW electric motor. The handler uses a 48 V electric system.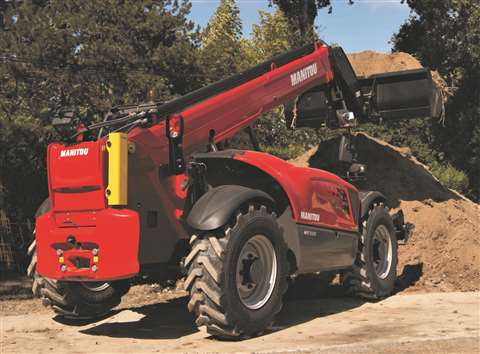 There is no indication yet when production models will be available on the market. Deutz said Manitou was its first E-Deutz partner, under the initiative launched in Autumn 2017.
Michel Denis, President and CEO of Manitou Group said; "It is the first full electric construction telehandler prototype that we have produced, thanks to Deutz, and we are proud to work in this explorative phase with a confident supplier. The integration of electric drives into our telehandlers is very encouraging for the future. Deutz has rapidly assumed a pioneering role in the field of electrification; it has the necessary expertise and knows our applications' special requirements.
"This telehandler enables Manitou to enhance our existing hybrid and electric ranges. Innovation is really a part of Manitou Group's DNA, and electrification allows us to match our CSR [Corporate Social Responsibility] approach and our customers' expectations."
Dr Frank Hiller, Chairman of the Deutz Board of Management, added: "We initiated our E-Deutz strategy last autumn. So, we are now very proud to be carrying out the next step of electrification with Manitou Group. These joint studies reinforce our belief that we can provide the market with the right solutions and to positioning ourselves as the market leader for innovative drive systems."