Marker buoys moved by LTC 1050-3.1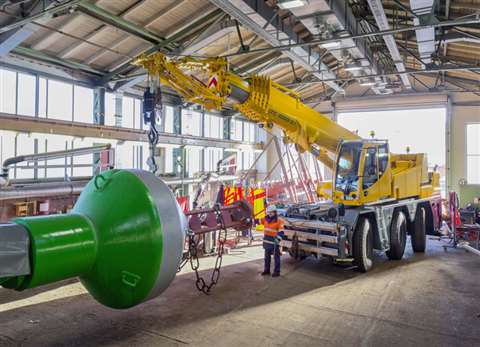 Bremerhaven Waterways & Shipping Office (WSA) in Germany chose a Liebherr LTC 1050-3.1 mobile crane for transporting its marker buoys.
The 50 tonne capacity telescopic wheeled mobile crane is on a three axle carrier. The 6 tonne buoys are upto 11 metres long and 3 m in diameter. They are stored in the WSA yard in Bremerhaven harbour. Every five years or so they are brought back from the sea for refurbishment and exchanged for a different one. This entails transporting them between the yard and the hall. Refurbishment includes any structural steelwork repairs, painting and fitment of new signalling systems.
Other work for the crane includes lifting and transporting the equipment that working ships require at the quayside and loading and unloading vessels. Wolfgang Witzleb from Bremerhaven Waterways & Shipping Office, said, "In addition to the marker buoys, it loads containers, boats, equipment and machines. Our crane is actually in use every day."
Witzleb was responsible for buying the new vehicle. "We had several special requests and requirements for the new crane but only a few suppliers were able to meet them."
The customer wanted reinforced tyres and a modification to the front of the crane so that bull bars could be installed to protect the crane against impact from loads. An assembly jib is fitted at an angle of 20 degrees and the boom is only telescoped slightly, Liebherr said.
The LTC 1050-3.1 replaces a Liebherr LTL 1030 rough terrain from the 1990s.