MAS Dingli and Nifty order
By Euan Youdale18 September 2018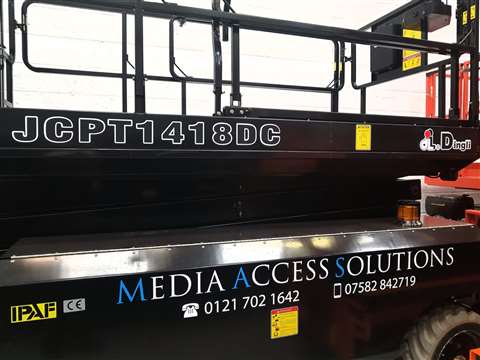 UK-based-film and TV access provider MAS have invested in 17 new Dingli Scissors and Niftylift booms.
The deal consists of five Dingli electric 1418 and four Dingli 1612 scissor lifts, plus a range of Niftylifts, including two HR17s, four HR21s and two HR28s, all of wihch are hybrid 4x4's. All to be delivered in MAS black.
MAS managing director Tim Kendall Bastock said, "Our media clients and our operations team have been very impressed with Dingli and the quality of their scissor lifts. We are proud to be the first UK access company to take the Dingli 1418s which have gone straight out to work and the feedback has been great. We would like to thank Andy Northwood for his help and support in this deal.
We already have the largest fleet of Niftylift HR28s in the UK and over the summer we have had to rehire many from our suppliers whilst also losing hires for them due to not having enough. They have been our best return on investment so far. All our boom fleet is Niftylift and this summer we have been 100% utilised on booms, which is testament to Niftylift for the quality of these machines in staying out on hire.