Material handling: Moving the goods around
By Joe Sargent28 February 2020
On large sites, heavy building material is required to be shifted on a regular basis. Choosing the right tool for the job is essential, as Joe Sargent reports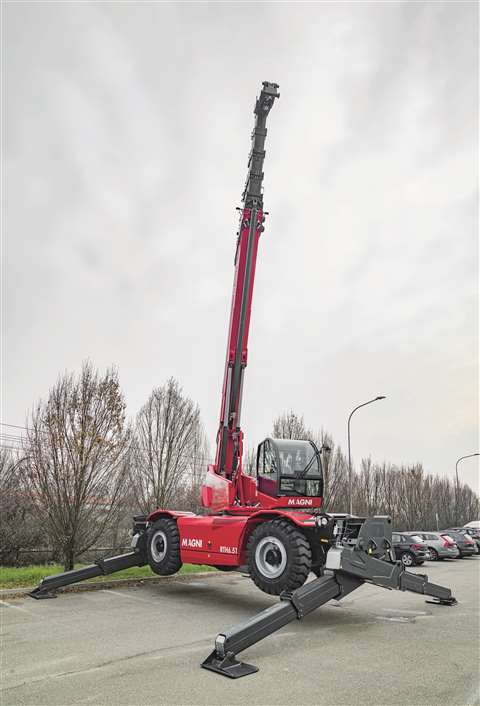 In the world of material handling, there are many avenues to explore in terms of applications and machinery. This article aims to cover a number of those different niches in the sector and offer an insight into some of the most interesting machines in their categories.
Telescopic handlers (telehandlers) are one of the most popular construction machines in Europe, with sales over the last two years in the region of 30,000 units, according to specialist market research and forecasting company, Off-Highway Research. Only mini and crawler excavators sell in higher numbers.
One of the reasons for the telehandler's popularity is that these machines are also used extensively in agriculture as well as construction. Agriculture typically uses smaller machines with lift heights of 6m or less, while construction generally uses bigger machines.
That said, compact telehandlers also have a place in construction, and there is some evidence that they are replacing certain traditional small loading machines, such as backhoe and skid-steer loaders.
With the European construction equipment market currently at a peak, telescopic handler sales are expected to enter a shallow decline in the coming years, along with most other equipment types. However, they are still expected to maintain their relative popularity, accounting for some 17% of all equipment demand.
High demand
The main European markets for telehandlers are the UK and France, where sales are currently around 8,900 machines per year in each country. Demand for these machines has been stimulated by the presence of two of the pioneers of the telehandler – JCB in the UK and Manitou in France. In contrast, demand for telehandlers in Germany is only about half that of the UK or France due to the long-standing popularity of alternative materials handling equipment such as small and self-erecting tower cranes.
Though a quarter of its revenue is now generated from the US market, Magni Telescopic Handlers is looking to other regions in Europe, further than just its home market of Italy, with a promise of delivering higher safety standards on its products. The regions within Europe for Magni to focus on include predominantly northern European countries; Germany, Holland, Benelux countries, Norway Sweden and France.
Riccardo Magni, President of Magni Telescopic Handlers, spoke to CE's sister magazine Access International about the launch of its latest telehandler model and the company's recent plans to expand the company's current operations in the fixed telehandler market.
Magni explained that the company is at the top of the game when it comes to rotating telehandlers above 30m in boom lengths, saying, "We sell loads in Europe, but we don't have competition. It's a very small world. Merlo has a 30 metre, but its not really competing with us; Manitou also, though our performance is much better in terms of capacity."
Magni's larger rotating telehandler range includes a 30m boom model, a 35m, 39m, 46m and the latest addition to the range, a 51m boom model. At this length, Magni claims the title of producing the highest rotating telehandler in the world.
The RTH 6.51 achieves a lifting height of 51m, with a maximum load capacity of 6 tonnes. The boom is composed of seven sections with six extensions. In fact, for this type of machine the boom is so extreme in length, a dedicated solution had to be devised to maximise the section of the hydraulic pipes in order to ensure reduced pressure drops.
According to Riccardo Magni, half of the company's telehandler production is delivering machines with a reach capacity over 30m in length. "We have five models for which we have almost zero competition," he says, "We are also moving to fixed boom as a way to increase our volume in the market, but we will do it our way. We want to comply with the EN 13000 standard for cranes."
A tall order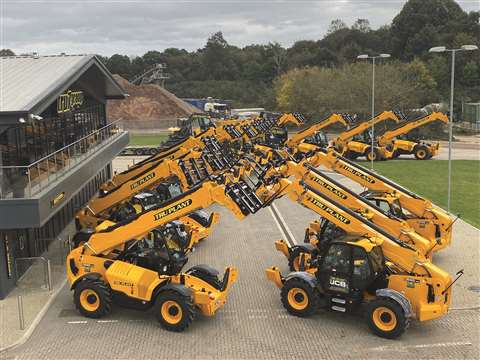 Looking to the UK, JCB has its own offering of handling machinery, which it calls Loadalls.
The company recently announced that a deal was made with UK plant hire company TRU Plant to add 30 of JCB's Loadall telescopic handlers to its fleet as part of a massive investment in over 300 JCB machines worth nearly £16 million (€18.89 million).
As per the order, TRU Plant have taken delivery of the latest JCB 540-140 HiViz Loadalls, incorporating JCB's compact Dieselmax 3.0-litre EU Stage V diesel engine, which is said to deliver 5% fuel savings over previous models.
TRU7 Group owner, Guy Nicholls said, "There are many reasons we choose JCB. We are loyal to the brand which has played a major part in our success, we have a long-standing relationship with the company and the customer care we receive from our dealer, Watling JCB, is excellent. We've been very impressed with the new JCB machines as we strive to invest in the best equipment on the market."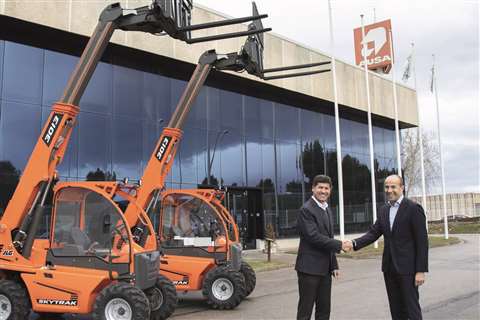 Further south, Spanish manufacturer Ausa has signed a ten-year agreement with US-based JLG to manufacture a new ultra-compact telehandler.
The new SkyTrak 3013 is designed to handle materials in narrow spaces and will be manufactured in Manresa, Spain. It allows JLG to expand its catalogue to a segment that it had previously not covered.
The SkyTrak 3013 is adapted from Ausa's existing T144H, which weighs around 2,400kg and has a load capacity of 1,220kg. The new model has a lifting height of 4m and can be transported on a conventional trailer. Additionally, it has four-wheel drive and rear steering, a hydrostatic transmission and two accessory attachment options. It is powered by a Kubota V-1505 diesel engine providing 19kW of power.
A series of machines
Other machines involved in the shifting of material include compact and wheeled loaders and skid steers. Specialist compact equipment firm Bobcat recently developed new models and is preparing to take examples of its latest M-Series and R-Series Loaders to SaMoTer 2020 in Verona, Italy.
At the Italian Expo, Bobcat will present the latest additions to the company's range of compact equipment, including wheeled and tracked loaders, mini-excavators, telehandlers and attachments.  
The company will be launching its new Stage V compact tracked loaders at SaMoTer, alongside the recently launched Stage V M-Series S450, S510 and S530 skid-steer loaders. Bobcat will also preview the company's larger R-Series loaders being launched later in 2020, representing a new approach to designing skid-steer and compact tracked loaders.
Bobcat's new waste expert telehandlers are designed for the waste material handling industry
The new loaders are the first models in the Bobcat compact equipment range in Europe to have the company's new machine styling scheme, which includes 3D decals for the first time. The new M-Series and R-Series loaders provide operators with increased performance, enhanced comfort and reduced maintenance requirements to maximise jobsite efficiency.
Returning to telehandlers, the company will also be presenting a new Waste Expert telescopic loader, the TL43.80HF. Together with the TL35.70, TL34.65HF and TL38.70HF models, the TL43.80HF is one of four productivity and high-flow telescopic loaders that Bobcat is selling as Waste Expert machines. Powered by Bobcat Stage IV 100 or 130 HP engines, these new Waste Expert models offer lifting capacities from 3.4t to 4.3t and lifting heights from 6.5 to 8 m.
To cope with tough working environments, the new Waste Expert machines come with heavy-duty Dana Spicer axles and additional reinforced protection, which Bobcat says makes them the toughest on the market.
Not wasting time
Also designed for the waste and recycling industries, the new EW240E material handler from Volvo Construction Equipment is a powerful machine, designed for use in challenging work conditions.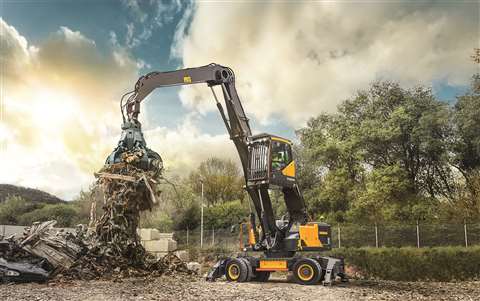 The 26t Volvo EW240E material handler is powered by a Stage IV/Tier 4 Final-compliant Volvo engine, which provides 129kW of power and maximum torque of 850Nm at 1,350rpm. With its 6.5m straight boom and 5m gooseneck arm, the machine has a forward reach of more than 11m.
The handler is manufactured with an upper structure and reinforced undercarriage for scrap sorting applications. Other differences compared with a standard excavator include the hydraulically elevated cab, four stabilisers, full rubber tires, and a tailor-made straight boom that is flexible enough to be fitted with either a 5m gooseneck arm or a 4m grab/sorting arm.
Performance is enhanced by the boom float function and boom cylinder dampening, which minimises shaking and holds the grapple in place for increased stability. To improve accuracy, the grapple control and soft swing braking system work in harmony during operation, while the optimised hydraulics system delivers instant response.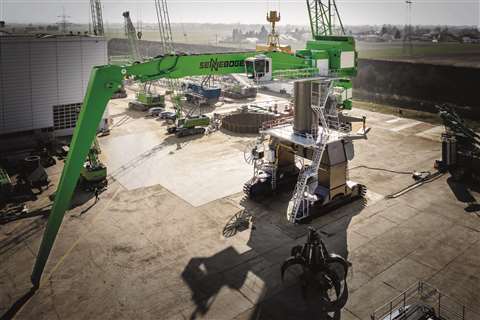 Sennebogen has produced a new port material handler, the 895 E Hybrid. The machine has an impressive operating weight of around 420t and a reach of up to 40m.
The machine is so large that Sennebogen lays claim with the machine to the title of the world's largest material handler. As a hydraulic material handling machine, the new machine is suitable for the largest harbours in the world.
The company says it performs well in bulk cargo handling operations and container handling at ranges of up to 28m. The machine can even lift goods at short ranges, with a load capacity of up to 50t.
The new 895 E also incorporates a new Green Hybrid energy recovery system, derived from Sennebogen's 855 E and 875 E machines. Two additional hydraulic cylinders, mounted between the two lifting cylinders on the boom, store the energy produced when the boom is let down in compressed gas cylinders at the rear of the machine. This accumulated energy is then available for the next lift. The principle can be compared to a spring being compressed and then releasing its energy when it is allowed to expand. As such, the machine works in an extremely efficient and resource-friendly manner in spite of its immense size.
Pick and carry crane
A lesser used style of material handling, but no less effective, comes in the form of pick and carry crane lifts. Italian crane manufacturer Valla has launched a new eight-tonne capacity electric pick and carry crane: the V80R. The crane has full radio control and front wheel drive and is relatively compact with an overall width of 1.4m.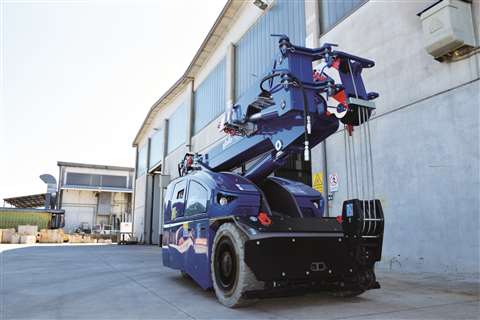 An 80V, 560Ah lead-acid battery with automatic water refill provides the power for the 4.2kW electric motor driving the front wheels with their large-diameter 250-15 ins tyres. White non-marking tyres are also available. Maximum gradeability is an impressive 14-degrees and travel speed is stepless from 0 to 6 km/hr. The twin 23x9-10 ins rear tyres offer a 180-degree steering angle for a rear tail swing of only 2.8 metres.
The crane has a three-section full-power boom with a maximum angle of 70 degrees and a maximum height of 9.4m, at which it can lift 2.5t.
Maximum forward outreach from the centre of the front tyres is 5.5m with capacities of up to 1.8t. The boom also offers negative angles of up to -10 degrees. For increased reach, a 3t-capacity 2m-long hydraulically-offsetable jib is offered. Maximum lifting capacities are achieved by deploying the hydraulic crossbar stabiliser which is supplied as standard equipment.  
'Mined' over matter
South African crane manufacturer Condra Cranes and Hoists has developed a fully-automated overhead crane, the first model of which was delivered to mining group Lonmin. According to Condra, the full automation crane provides an alternative to traditional pendant and remote control and is in line with a general trend away from manual control in industry and mining.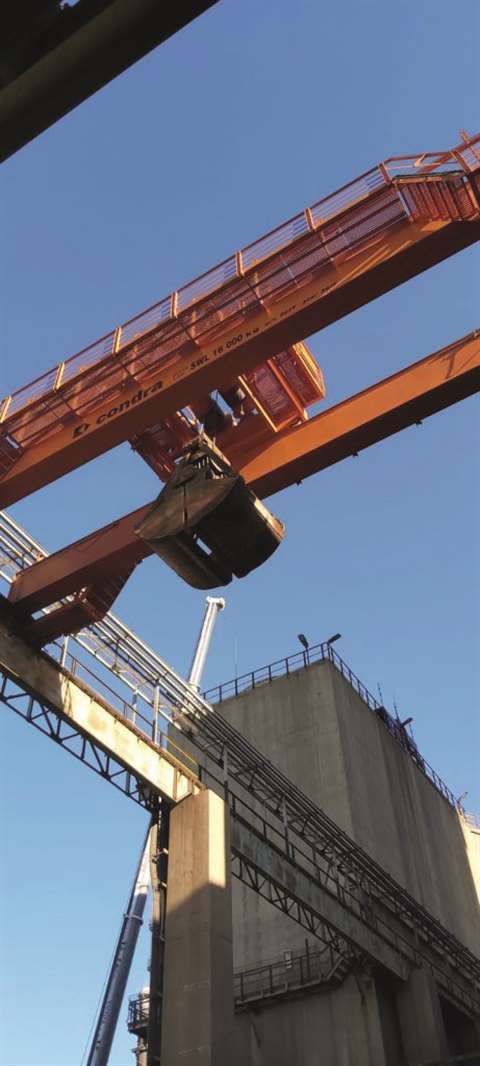 Lonmin is using the crane at its platinum mine in Marikana, near Pretoria, South Africa. The crane is a 16t-capacity, 16m-span electric overhead travelling grabbing crane, featuring a customer-specified mechanical rope grab in place of the hydraulic alternative.  
There are dual hoists in the design; one to raise and lower the load, the other to mechanically close the grab by means of an internal sheave arrangement to overcome the spring-loaded open state.
Variable speed drives are fitted throughout the crane, delivering maximum speeds of 10m per minute on the lift, and 20m and 40m per minute on the cross-travel and long-travel respectively. Four long-travel motors deliver the materials handling equivalent of four-wheel-drive, enabling automated control of all four wheels for precise crane positioning accurate to within 5mm.
The crane is fully automated with a manual override. It is programmed by an operator from a remotely located control room, where on-screen monitoring is complemented by a visual monitoring capability via closed-circuit television.
Condra's managing director, Marc Kleiner, said that the company was making full use of new developments in sensors, controls and software to offer a very precise positioning capability in automated applications.
"This is a capability that we will offer to our customers as an option," Kleiner says. "We will mainly but not solely target the copper mines, especially tankhouse and copper-leaching applications where we have extensive experience."
Heavyweight drones on horizon for material handling assistance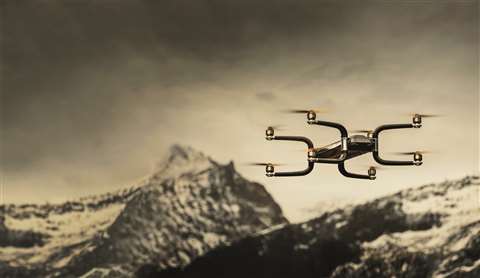 Engineering and design firm Plextek and drone specialist Griff Aviation are developing unmanned aerial vehicles (UAVs) which, the companies say, can carry loads of up to 250kg.
These autonomous drones could potentially be used to haul building equipment and materials to remote or difficult-to-access construction sites.
Plextek has developed e-scan micro radar, along with on-board software, which is able to detect power lines from up to 60m and larger hazards, such as buildings and bridges, from up to 300m.
Plextek says the equipment operates in the 60GHz frequency, which can be used in most territories and is unlikely to interfere with other nearby equipment.
The UAVs themselves have aluminium chassis and arms, which keep the units operating at optimal temperature on long flights, with the machines' enclosed design allowing it to operate in extreme weather conditions.
The arms of the Griff drones are modular and can be set up with either four arms carrying two motors each, or eight arms, each with a single motor.
Griff UAVs fitted with the Plextek technology have been undergoing trials in Norway, with further test projects lined up in Japan and Australia.
Peter Doig, business development director at Plextek, said his company has, "established internationally recognised expertise in mm-wave radar over the last six years and is now applying its technology for the 'sense and avoid' navigation of drones and other UAVs."
Hans Petter Forde, technical lead at Griff Aviation, said, "We believe Plextek and Griff Aviation will develop a system that sets the standards for UAS navigation."
Prinoth's rotating crawler haulers
Italian tracked utility vehicle specialist Prinoth has been developing its latest line-up of tracked hauler vehicles.
The company introduced its first tracked hauler in 2016, the Panther T14R, and recently developed the new Panther T7R as the first crawler carrier with a Stage V engine and the offers operators better visibility for both their safety and the safety of nearby jobsite workers.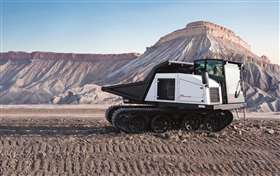 Prinoth crawler carriers and similar utility machines are ideal for land clearing, ground preparation, earthmoving, material hauling, moving welding equipment, hydro-seeding, right-of-way maintenance and even hydro-vacuuming for pipe maintenance and inspection.
Both units will be on display at ConEpo in Las Vegas, Central Hall booth (C22231).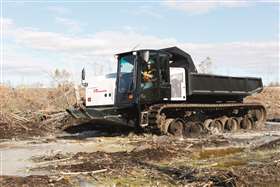 New this year is a second booth for Prinoth in the Festival Grounds area showcasing PRINOTH Rental Solutions by Multi Machine Inc. That booth will have on display the
Panther T16 equipped with a dump box, the largest dump body unit by PRINOTH, as well as the Panther T6 with a passenger cabin in the rear.