Matt Fearon to leave Genie
By Lindsey Anderson08 June 2020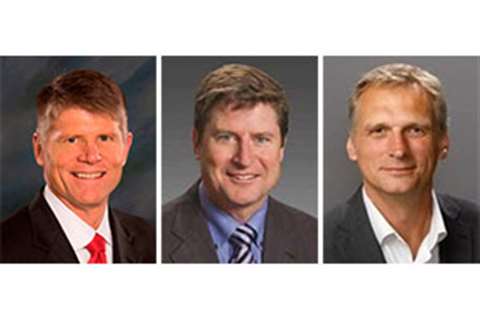 Matt Fearon, president of Terex AWP, is leaving the company August 1. Fearon, who has spent 25 years with Genie and Terex AWP, will be replaced by John Garrison, Jr., chairman and CEO of Terex Corp.
Simon Meester, vice president, global sales and marketing administration for AWP, will be promoted to chief operating officer, Terex Aerials. Meester and Clint Weber, general manager of Terex Utilities, the company's other business in the AWP segment, will both report directly to Garrison in his role as president, Terex AWP. The Terex Executive Leadership Team will continue to report to Garrison in his role as chairman and CEO of Terex Corporation.
In a letter to customers, Fearon said, "I am leaving with mixed emotions as I am excited about what lies ahead, although I will miss working with terrific customers and partners like you. I will be working closely with John, Simon and Clint over the next few months to ensure a smooth transition.
"I am confident that Genie, our team, and our customers will be in the strongest of hands. John has been at the helm of Terex since 2015 and is very familiar with our customers and markets, and he understands the great long-term potential of our industry. John serves on the Board of Directors of the Association of Equipment Manufacturers (AEM), and he is a strong and passionate advocate for our industry. Simon is a talented and seasoned global leader, and he has quickly gained familiarity and experience in our industry since joining Genie in 2018. The familiarity with John and Simon will make this transition seamless to the Genie team and our customers.
"Since I first arrived at Genie as an engineer, it has been my privilege to work with so many dedicated, creative and wonderful people in this industry. Throughout my Genie and Terex career, I have been supported by our leadership and passionate global team members who genuinely encourage improvement, innovation and respect. As I move on to new adventures, I want nothing more than to see Genie and Terex continue to thrive."
Garrison said, "We thank Matt Fearon for his many contributions to Terex. Matt has been a dynamic and much-admired leader who helped Genie grow from a regional brand to a global powerhouse.
"He arrived as an engineer 25 years ago and went on to key roles including VP Operations, VP and Managing Director of EMEAR, VP and General Manager, Americas, and ultimately President of AWP."
Meester joined Terex in 2018 from Eaton Corporation, where he was VP and general manager of the Industrial Control Division. Earlier, he spent 14 years in progressively senior roles at Caterpillar, Inc., before becoming president, Sandvik Mining and Construction in India. He has managed global teams and operations for 20 years, based in seven countries, including eight years in the U.S. He holds an MBA from the University of Surrey, England, and a Bachelor of Science in Automotive Engineering, Apeldoorn, Netherlands.
"I look forward to working closely with Simon and Clint, and their terrific teams at Genie and Utilities," Garrison said. "We congratulate Simon on his expanded responsibilities, and we send best wishes to Matt for continued great success in the years ahead."