MaxiKraft goes again with third 1,000 tonne Liebherr crawler crane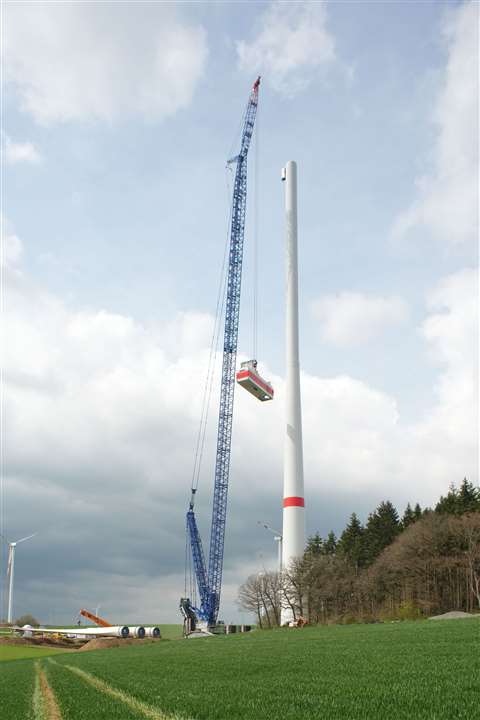 Lifting specialist group MaxiKraft has taken delivery of another 1,000 tonne capacity crawler crane from Liebherr and put it straight to work on wind farm construction.
The new LR 11000 is the third unit of this model to join the German group of companies' fleet. It started its lifting career at the Dünfus wind farm, just north of Cochem, being used to assemble a wind turbine. Components weighed as much as 100 tonnes and had to be lifted to a height of 170 metres.
Lifting 100 tonnes to 170 metres
The turbine MaxiKraft assembled was a Vestas V150-5.6 MW. It has a rotor diameter of 150 metres, a hub height of 169 metres and a total height of 244 metres. The heaviest part was the 100 tonne gondola.
A special yoke was used to lift the gondola onto the tower. After the crane had picked it up it then had to travel about 20 metres on excavator mats to the assembly position. Rigged in the SL10DF2BV configuration it had 162 metre main boom, 21 metre lattice fixed jib and 42 metre derrick boom.
Commenting on his new crane Maik Kanitzky, MaxiKraft owner, said, "With its special configurations, the LR 11000 offers enormous lifting capacities for wind power assemblies. But it also offers flexible deployment options for other applications."
Other big Liebherrs in the MaxiKraft fleet include the LG 1750 lattice boom wheeled mobile, plus LR 1700-1.0 and LR 1800-1.0 lattice crawlers. Steffen Lehmann, who manages their deployment, said, "For us, the highly flexible set-up versions and boom combinations of the Liebherr lattice boom cranes are the decisive factor. Having permanent control of all parameters of a lift is important. Our drivers rate the LICCON2 control system positively."