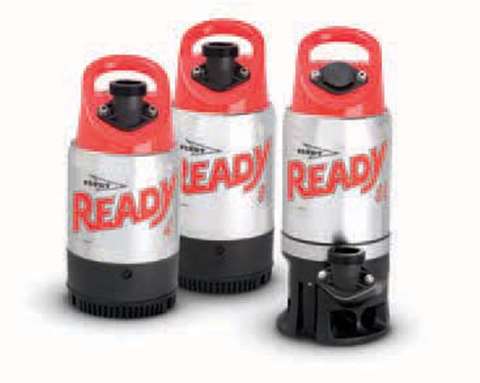 Control Of Groundwater and wastewater on many sites is essential to keep work on schedule, and over the last year pump manufacturers have been developing new faster, greener and more efficient ways of enabling contractors to do just that. But there have also been some changes within the industry itself following several takeovers and mergers during the early part of 2005 and the launch of a new player into the market too.
Changes
Grundfos bolstered its market position with the buyout of Italian submersible motor manufacturer Tesla in January. According to Grundfos group president Jens Jørgen Madsen it is part of the company's drive to strategically develop its market presence.
"Grundfos has an annual turnover of € 1,5 billion and, as the only major pump manufacturer, has produced submersible motors for many years,"said Mr Madsen. "Through the acquisition of Tesla we will expand our global share within submersible motors and give us a competitive edge."
Cardo Pump also chose January to officially announce that it would be merging the wastewater product lines of two of its subsidiary companies – Pumpex and ABS. However, Cardo intends to maintain the two brands in the dewatering sector. The merged wastewater range will be marketed under the ABS name and will be expanded with a number of new pumps which will be available from this autumn.
According to Cardo Pump president Peter Aru, the merger of ABS and Pumpex will "strengthen its local network and global presence", but already a new name has moved into the wastewater market. Danish based PXPumps was one of the world's biggest distributors of Pumpex products but has taken the decision to launch its own range of wastewater pumps.
"The new range is based on the vast experienced we have gathered over many years as a distributor for Pumpex but will incorporate some fundamental improvements which will increase reliability and operating performance and ease maintenance,"said PXPumps
Market Trends
Prospects for the pump industry seem to be good for 2005 and many manufacturers are expecting the markets, particularly in Eastern Europe, to grow this year. Many pump users are now opting to rent units rather than buy them which means that the pump industry is becoming more strongly influenced by changes in the rental sector.
"There has been quite a bit of consolidation of UK rental companies in the last few years," said SPP Pumps business manager Steven Handy. "This has meant that buying new pumps has been put on hold until the dust has settled. This is usually followed by a surge in orders."Similar changes are happening across
ABOVE: Godwin Pumps has expanded its Sub-Prime submersible pump range with the GSP40SL and the GSP60SL (pictured).
Europe. "We have agreements with some rental companies which now operate in more than 11 countries following some acquisitions in the Nordic rental market, but it is taking time for the new companies to settle down and place orders,"said Grindex marketing manager Gunmar Benselfelt.
New Equipment
Demand for higher flows rates from quieter, more fuel efficient and reliable pumps is helping to drive continual development and innovation in both the wastewater and dewatering market.
ITT Flygt has added the Ready 8S and upgraded its existing range of Ready submersible dewatering pumps. The 8S has a higher flow rate of 100 g/m (6,3 l/s) and can cope with solids up to 38 mm. All three models now feature an inner stainless steel cover which protects against the dry running of the pump for extended periods and a two position outlet which helps to reduce the risk of a blocked hose.
Several new wastewater pumps have also been added to ITT Flygt's ranges and are specifically designed to handle abrasive materials. The DS3057 is a heavy duty sump pump is an abrasion resistant version of Flygt's successful sewage pump model and has a 2,4 kW motor which provide the unit with a maximum head of 16 m and a flow rate of 12 l/s.
Flygt's 5100 and 5150 slurry pump ranges feature wear parts manufactured from high chrome and hardened 'swept back' impellors for maximum wear resistance. The pumps are available in a range of power ratings from 7,5 to 85 kW which produce flow rates of up to 200 l/s Multiquip has introduced three new 2 in (50 mm) portable submersible dewatering pumps which feature double mechanical oil-filled seals and neoprene impeller nuts over cast iron for improved.
Reliability and durability. The ST-2037, ST-2040T and ST-2047 are designed to remove water from confined areas and produce a maximum flow rate of 87 g/m (5,5 l/s) over a maximum head of 47 ft (14 m).
Godwin has expanded its line of Dri-Prime pumps and Sub-Prime electrical submersible pumps. The newest models in the automatic, self priming centrifugal Dri-Prime range are the HL 130M.
HL 160M which are aimed at the construction and aggregates market. They can produce heads of up to 183 m and feature a compact single stage impeller design which reduces bearing stress. The company has also added the GSP40SL and GSP60SL dewatering pumps to its Sub-Prime range for well casing applications with a maximum diameter of 184 mm.
The new series of slurry pump from Grindex, the Bravo, is aimed at the mine and quarrymarket and features hydraulic components made from Ni-Hard 4 to reduce wear. The Bravo isavailable in five models with power ranging from 5 to 40 kW and delivers flow rates of between 30 and 130 l/s.
US based pump manufacturer Gorman Rupp has introduced three new multi purpose Prime Aire solids handling pumps – the 4 in (100 mm) PA4C60-4045T, 6 in (150 mm) PA6E60-6068H and 8 in (200 mm) PA8A60-4045T. According to Gorman Rupp, all three Prime Aire pumps offer high head and flow rates and can handle solids of up to 3,38 in (85 mm), making them ideal for use by the construction industry. They are all powered by John Deere diesel engines which includes an auto start control for unattended operation.
Gorman Rupp has also launched the 200 mm PA6C60-4045T-ESP pump for the environmental market. The pump combines high performance with sound attenuation and an environmental containment base to offer a flow rate of up to 2750 g/m (173 l/s) over a maximum head of 200ft (61 m) and can handle 3 in (76 mm) solids.
Pioneeer Pump's latest offering – the PP44S10 – is also aimed at the environmentalmarket and is a 4 in (100 mm) version of its Silent Pack range of dewatering pumps. The fully enclosed PP44S10 produced less than 62 dB(A) at 7 m and is powered by a Deutz F3M2011 26 kW engine to deliver a maximum output of 1400 g/m (88 l/s) over a maximum head of 105 ft (32 m).