Mayer brings first XC to Germany
By Euan Youdale19 September 2018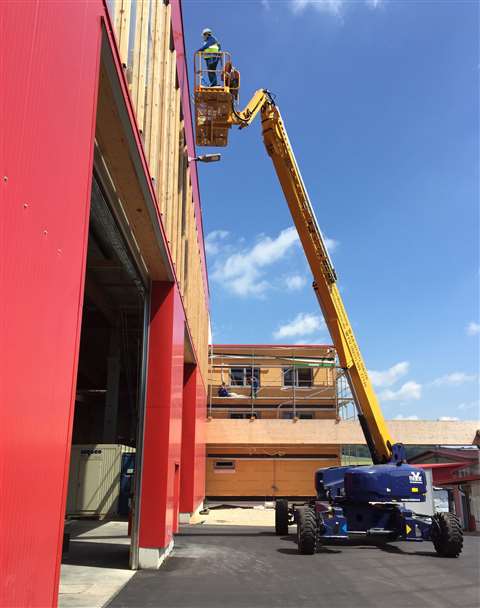 Mayer Hubarbeitsbühnen marked a premiere in Germany with the delivery of the first 34m working height Genie SX-105 Xtra Capacity (XC) boom lift.
The SX-105 Xtra Capacity is now the highest model in the company's fleet and has already been involved in the construction of a warehouse. Much of the work involved reaching up and over an adjoining office building.
In addition to this new Genie XC unit's increased lift capacity of 300 kg / 660 lb (unrestricted) and 454 kg / 1,000 lb (restricted), for Mayer, its 24.38 m (80 ft) outreach was a key benefit that motivated the company's purchase decision.
As Erwin Mayer, operations manager, Mayer, explained, "When it comes to productivity every kilo counts. However, this is not all. As in many cases, this job demanded a machine combining sufficient working height with extra-long outreach to extend the boom across the offices in front of the warehouse."
The machine has a 24.38m maximum outreach and 135° vertical jib rotation and still offers about 23m horizontal reach at 15m working height and 21.34 m of horizontal reach at about 21m working height.
Mayer continued, "In terms of lift capacity, for us it is evident that these days the standard 227kg capacity is simply not enough. Many of our customers need to be able to carry at least 300kg in the platform to work across the machine's full working envelope."