McIntosh adds Mercedes Arocs
By Alex Dahm12 October 2019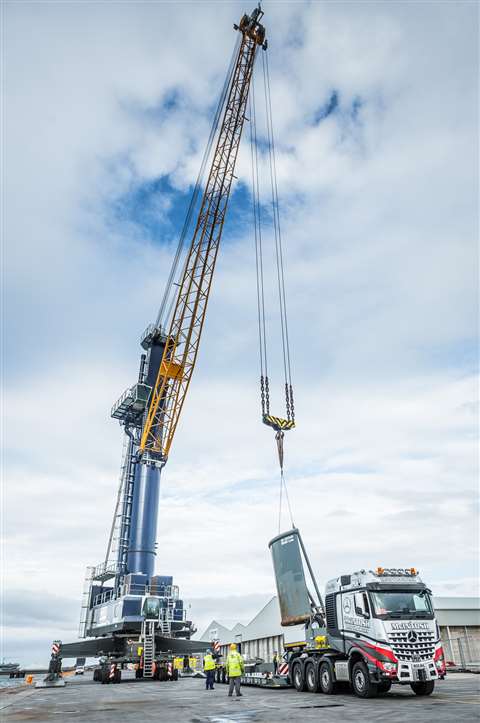 Scottish heavy haulier McIntosh Heavy Logistics has added its first Mercedes truck to its fleet.
The 8x4 Arocs 4163 SLT tractor unit is plated at 180 tonnes gross combination weight. It has a 460 kW (625 hp), 15.6 litre straight six diesel engine and a turbo retarder clutch which works with the 16-speed Mercedes PowerShift automated manual transmission.
McIntosh is a division of family-owned McIntosh Plant Hire (Aberdeen) and specialises in work for the oil and gas sector. It has a 62 acre depot 12 miles inland from the city of Aberdeen. The company also offers plant and transport rental, civil engineering, and storage services. Among its fleet of 40 trucks are nine under the Special Types category.
The new truck will pull an eight axle Goldhofer modular trailer and others from Faymonville and Nooteboom.
Gary McIntosh, company director, commented, "We've been doing this job for many years now so we know what we're looking for. The Arocs SLT was very well specified and kitted out and had a really smart paint job too. We came up with a livery design that complements this and have given it the personalised registration M100 MHL, so it looks fantastic."
McIntosh continued: "Reliability is the most important attribute that we look for in a truck, and I'm delighted to report that with nearly 37,000 km now under its belt, our first Mercedes-Benz hasn't missed a beat. The Arocs is also impressively economical – average returns of 6.6 mpg stack up very well against the competition."